Helen Coe House
85 Saratoga Creek Lane
1900. Miss Helen Burwell Coe (Courtesy Maureen Duryee).
Helen Burwell Coe was born in 1858 in Winnebago, Minnesota and attended the State Normal School in Oswego, New York. She inherited considerable money and never married. She visited Whidbey Island with family members in 1896 and liked the area around Langley. She bought 10 acres with a small house on the bluff overlooking Saratoga Passage west of Saratoga Creek. (Courtesy of Maureen Duryee).
Circa 1900. Initial Coe house (Courtesy Maureen Duryee).
Circa 1910. "Helen Coe in her woods" (Courtesy Maureen Duryee).
With the help of her uncle Archibald Gove, a Tacoma architect, Coe enlarged the house in stages over the next twenty years, adding a fireplace and chimney, a porch on the north side and a sunroom on the southeast corner.
Circa 1910. "Helen Coe in her woods" (Courtesy Maureen Duryee).
Circa 1915. Covered porch added to the north side (Courtesy Maureen Duryee).
1918. Sunroom added to the southeast corner of the house (Courtesy Maureen Duryee).
Helen Coe was an educated person with high standards and a good sense of humor. Friends recall Helen's home as an "oasis of refinement" where tables were set with fine linen, china, silver and crystal. She loved children and wrote a small children's book, Nature Tales.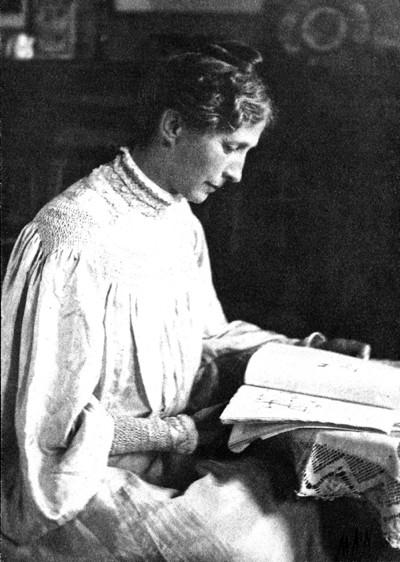 1915. Helen Burwell Coe (Helene Ryan).
Two of Helen's nieces eventually joined their aunt on the property. In 1914, Helen's niece Margaret Gove married Peter Camfferman, a young artist she met at the Minneapolis School of Fine Arts where they both studied. In 1915, the newlyweds made a trip to visit Helen Coe and fell in love with the Island.
1915. Peter Camfferman, Margaret (Gove) Camfferman and Helen Coe (Courtesy Helene Ryan).
Peter built a small cottage adjacent to Helen Coe's home in 1916; "Our First Home on Whidbey."
Circa 1918. Small cottage built by Peter Camfferman (left). (Courtesy Maureen Duryee).
The Camffermans eventually decided to settle permanently on the Island, and Peter bought a large portion of Helen's property in 1917. Over the years, Peter and Margaret built a larger home, a studio and several small cottages for visiting artists, turning the property into an "artist colony". Inspired by a glen of bracken fern, they named their compound "Brackenwood."
The small cottage built by Peter Camfferman became home to Helen's unmarried niece Helen Gove when she retired from teaching at the Isabella Thoburn College for Women in Lucknow, India in 1918; thus adding another intellectual to the Brackenwood compound.
Helen Coe became active in Langley's cultural and social life of Langley. She taught Sunday School classes at her home, and taught one year at the grade school until replaced by a male teacher who "could establish better discipline."
She was also very interested in improving the town. She joined the Ladies' Civic Improvement Club formed in 1916, and worked towards creation of a public library by organizing a number of fundraising events including a production of Shakespeare's "As You Like It" in the woods at Brackenwood. "Peter Camfferman attended to the lighting. A globe was attached to the inside of a five-gallon oil can, which made a good reflector on the stage. The audience sat on church pews in the darkness" (Maureen Duryee).
1916. Poster promoting "As You Like It" (Courtesy Maureen Duryee).
Women of the Langley Civic Club, whose motto was "A Better, More Beautiful Langley,". wanted the muddy streets improved and a curfew on the hours the saloons were open. To help, Helen ran for Mayor in the during the1918 town election and received one vote. The next year, just months after passage of the 19th amendment, Langley held an off-year election featuring a slate of women. This time, Helen Coe was elected mayor along with three women "councilmen."
After swearing in the new councilwomen in January 1920, the sitting mayor and remaining male councilman resigned. Two additional women were appointed leaving Langley in the hands of an all-woman administration. The women were reelected by a landslide in 1920.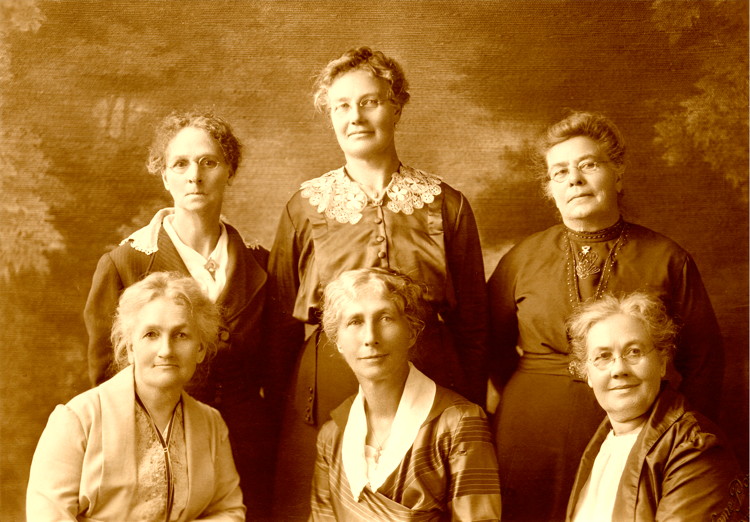 1920. Langley's first All-Woman town administration. L-R: (front row): Grace English, Helen Coe (Mayor), Emma Monson; (back row) Clara Brown, Lillian Wylie, Margaret McLeod. (Courtesy of Karen Pauley.)
In 1922, Helen Coe donated a plot of land at the corner of First and Second Streets and $500 for construction of a library, and resigned as mayor to oversee completion of the town's first public library which was dedicated in 1923 with Helen Coe as one of the librarians.
Helen B. Coe died in 1940.and is buried in the Langley cemetery adjacent to an Art Deco sculpture with heron-like birds forming the base designed by Peter Camfferman. Atop this is a sheltered bird feeder and carved into the marker is the injunction, "Feed My Birds".
Helen Gove lived in the little cottage built by Peter Camfferman until her death in 1956. Peter Camfferman died in1957 followed by Margaret in 1964. Both are buried next to Helen Coe in the Langley Woodman Cemetary.
Following the Camfferman's death, the property was sold to the Monroe family who subdivided the property. The lot containing Helen Coe's house and the small cottage was sold it to Paul and Maureen ("Mikky") Sarkis in 1994 who added a garage and large addition to the house. They also and made alterations to the cottage.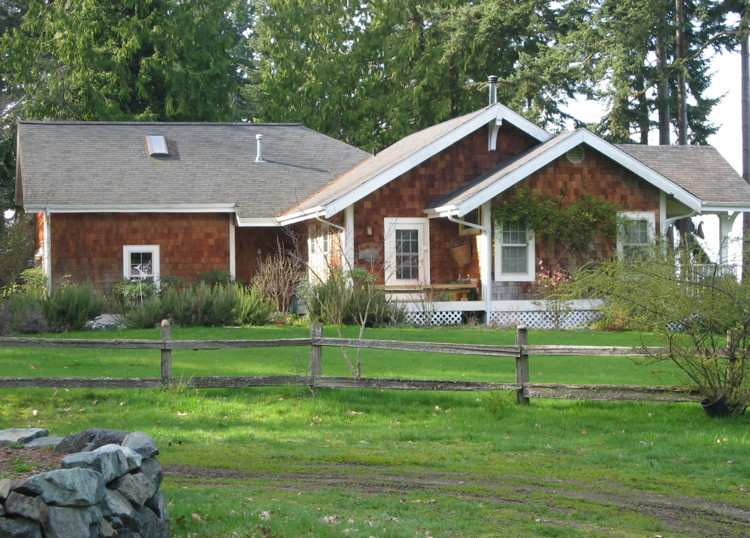 2004. Former Helen Coe home with addition (Courtesy Robert Waterman).
2020. Cottage and house (Courtesy Robert Waterman).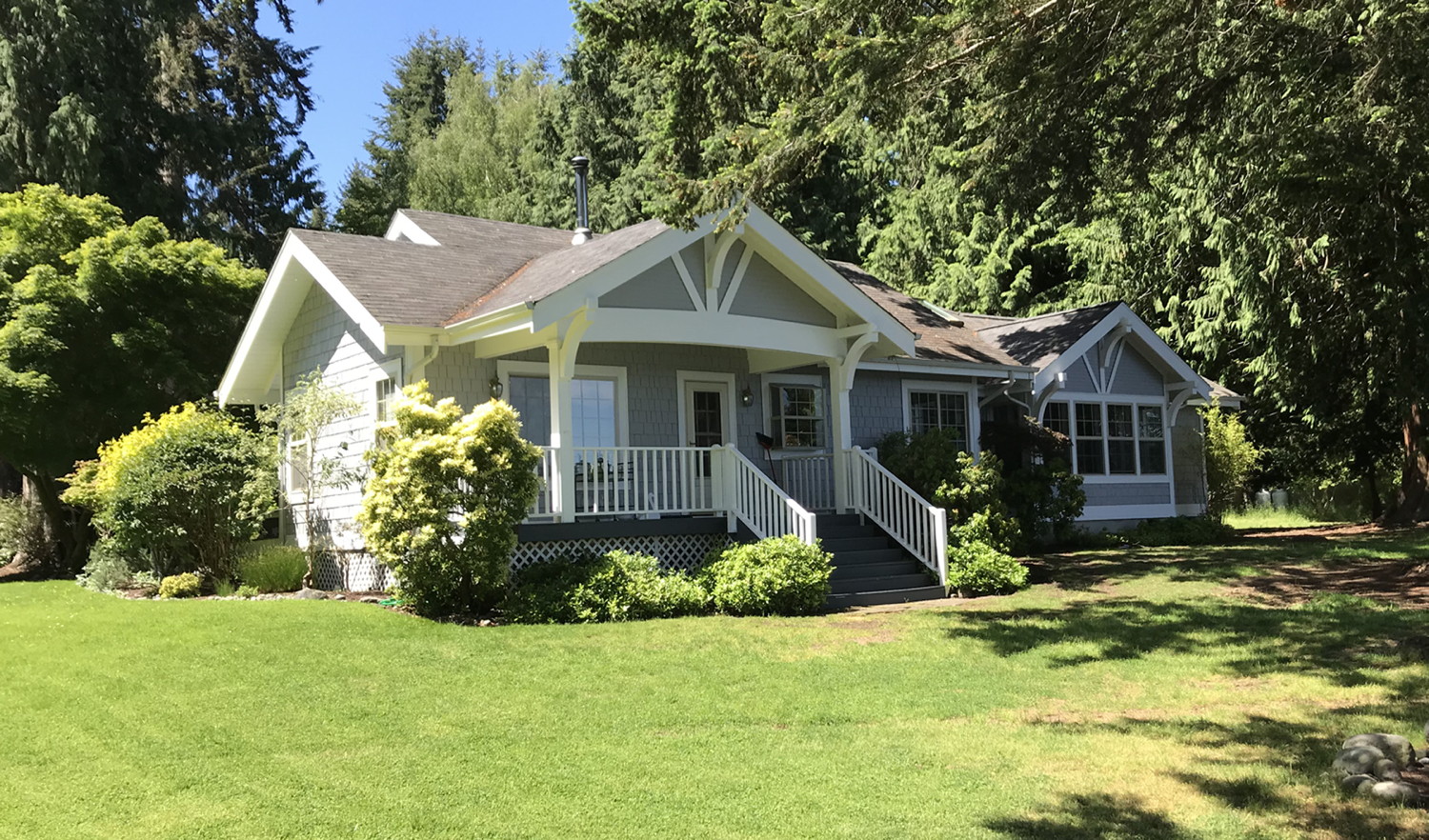 2020. Helen Coe House (Courtesy Robert Waterman)