Harry and Ruby Furman house
637 Edgecliff Drive
Ca. 2007. N.E. corner of house (Courtesy Robert Waterman).
Island County Assessor records indicate the existing house was built in 1917, but who built it is uncertain. The property has had many owners over the years, including Harry and Ruby Furman who purchased the house and property in 1944.
1903: Furmans arrive on South Whidbey.
Frank Ensley Furman and Anna Marion Buckley were married 10/11/1890 and moved from Grand Rapids, Michigan to Everett in 1900.
Frank bought property with a small house from William Bump on the north side of the County Road to Brown's Point (later named Edgecliff Drive), and the family moved to Langley with their three boys, Frank, Jr., George and Claude in March, 1903. Their daughter Hazel was born July 26.1903. Another son, Harry E. Furman was born 8/15/1905.
1904. Furman family. (L-R) George, Anna, Frank Jr. Frank E. Furman holding Hazel, Claude (Courtesy Noreen Warnock).
According to Claude Furman, "The house was a shock to Anna. She cried when she saw it." It was roughly 10 feet wide and 20 feet long with a dirt floor. Frank, a carpenter, promised to build her a new house.
Circa 1906. Original Furman house (left), "new house" (right) (Courtesy Lloyd Furman).
Frank E. Furman was elected Langley's first mayor in 1913, and resigned in 1915 to became postmaster.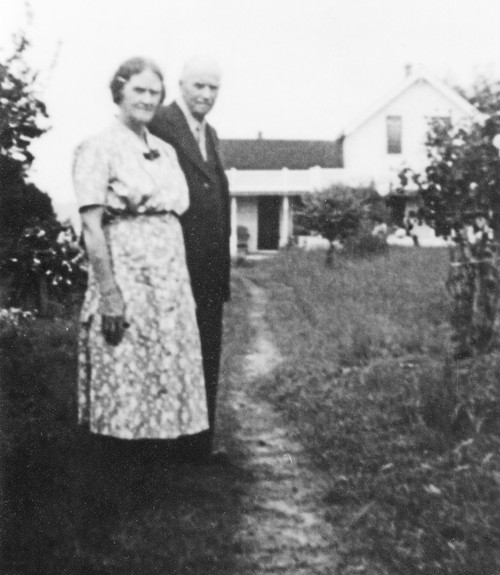 1942. Anna and Frank E. Furman in front of their house (Courtesy Lloyd Furman).
According to Frank's grandson Lloyd, " Frank E. Furman owned most of the land on both sides of Furman Avenue and all the way back to what's now occupied by the Cedars. He gave some of those properties to his children."
Prior to his marriage, Harry Furman built a house and started a two acre chicken farm on property fronting Furman Road given to him by his father on "December 6th, 1928 for the sum of $10" (Lloyd Furman).
1929: Harry Furman and Ruby Metcalf marry
Harry and Ruby Rose Metcalf were married 4/21/1929 in a double ceremony with Harry's brother George and Ruby's sister Ruth.
1929. Wedding photo of Furman brothers and Metcalf sisters. L-R: Harry, Ruby, George and Ruth (Courtesy Lloyd Furman).
Ruby, his 17 year old bride, became the instant foster mother of several hundred chirping baby chicks when she arrived at her new home on her honeymoon." (Cherry).
Harry and Ruby lived in this house with two of their three children (Vera and Lloyd) until 1944.
1941. Back row: Harry and Ruby Furman. Front row: Vera and Lloyd (Courtesy Lloyd Furman).
On July 26, 1944, Harry Furman bought the adjacent strip of property from Mary Aldrich (Lot A on the aerial view below) and moved into the house at 637 Edgecliff Drive. Their son Glenn Arthur Furman was born 9/12/1947.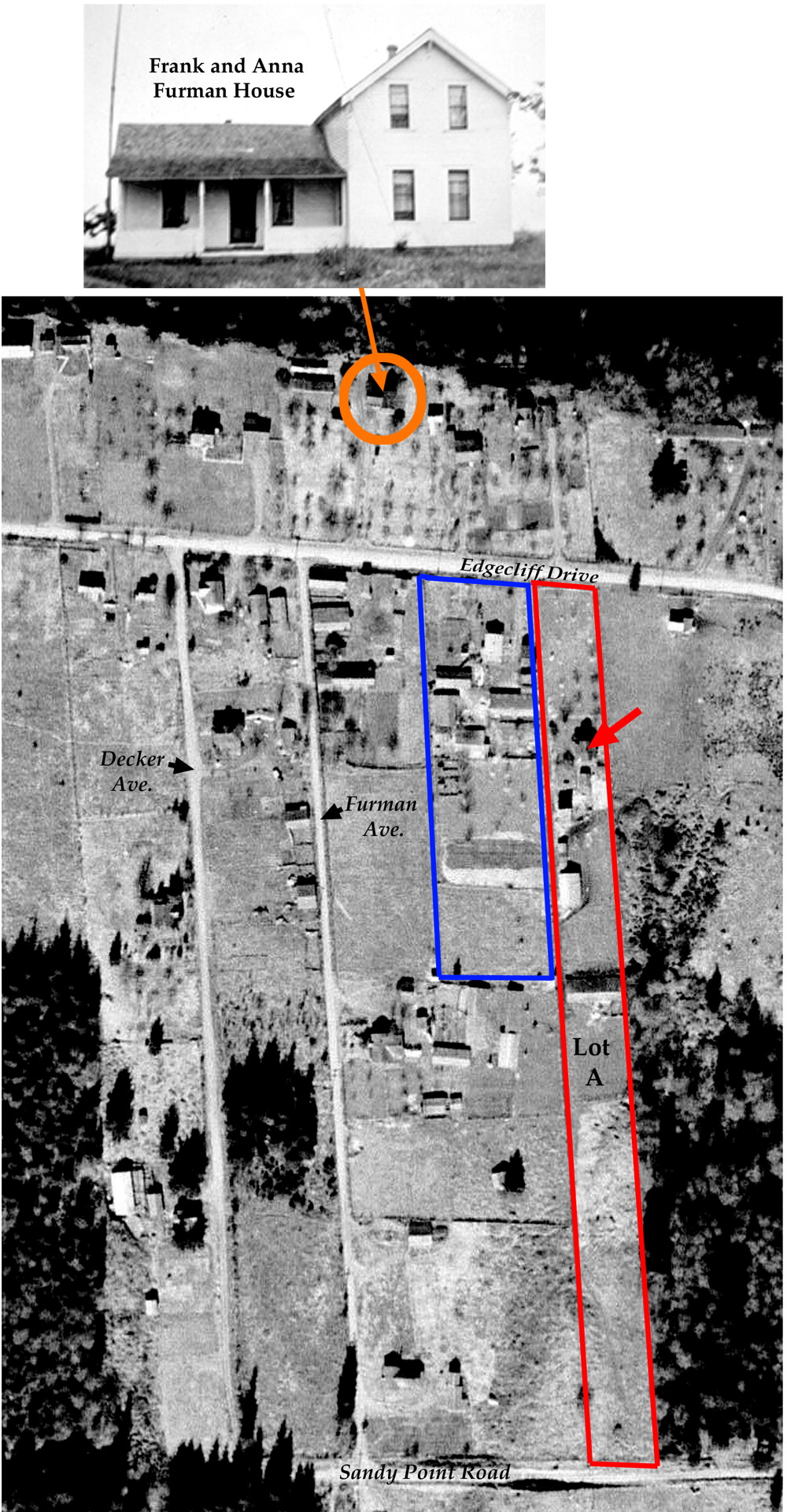 1946/47. Ariel view. Harry & Ruby's first property (blue). Strip with 637 Edgecliff Drive house (red arrow - Lot A) (Courtesy Whidbey Island Conservation District).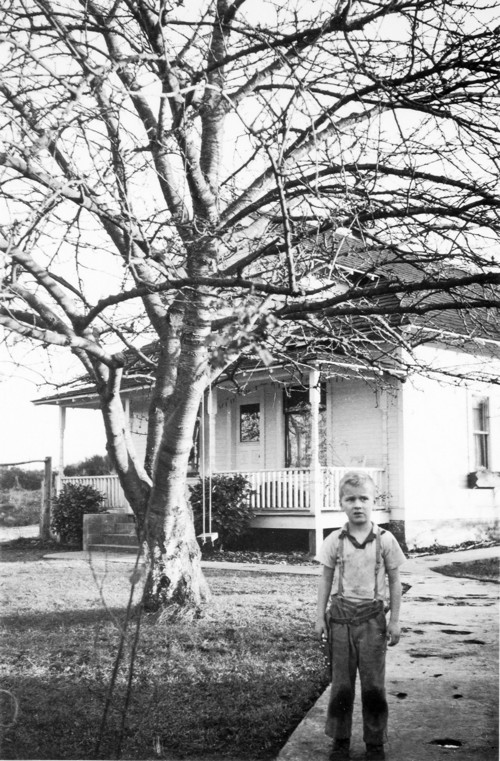 Circa 1954. Glenn Furman on sidewalk leading to house (Courtesy Lloyd Furman).
Harry Furman died suddenly in 1950. According to Lloyd, "Until 1950 when my father Harry E. Furman died, the only heat in the house was by wood. Also, a wood stove was used for all cooking and canning and hot water was from a heating coil in the stove. A propane gas heater was bought and a propane stove for cooking with a trash burner attached was installed in 1950 or '51. In approximately 1951 the electrical wiring was replaced, and a new foundation was installed."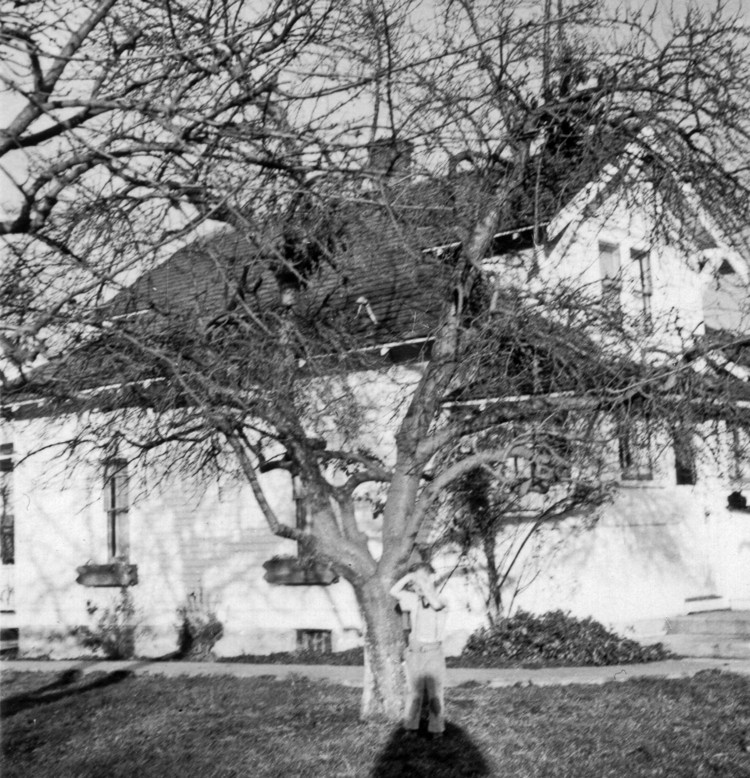 Circa 1954. N.E. corner of house. Glenn standing next to tree. (Courtesy Lloyd Furman).
Circa 1954. West side of house (Courtesy Lloyd Furman).
Circa 1950. Lloyd Furman and barn (Courtesy Lloyd Furman)
"The barn was torn done and the lumber was used to build a garage in the approximately the same location, probably in 1951 or 1952."
Circa 1954. Glenn standing in front of the shed (Courtesy Lloyd Furman).
"The upstairs addition of a kitchen was built sometime in the 1960s. The back porch was leveled (it used to slope to the south) sometime in the late 1970s or in the '80s."
Following Harry's death in 1950, Ruby continued living in the house until 1992 when she transferred the property to her daughter Vera and her husband John Anderson prior to moving to a retirement home in North Seattle. The property was subsequently sold to Linda Anderson in 1993. Ruby died in 1996.
Carl Magnusson bought the property in 2003, renovated the house and rented it out before selling it to Alberta Hansen in 2011.
2020. House and Garage with rabbits (Courtesy Robert Waterman)
There is some evidence that the property (Lot A) was owned for a brief time prior to 1944 by the parents of young Esther Marshall who eloped and married Harry Furman's older brother Claude.
1915/1916: Marshalls arrive on South Whidbey
Joseph Marshall (22) and Lorena Jane Coyne Rimbey (16) were married in Morgan, Illinois on 8/28/1886. They moved to Alberta, Canada in 1902 with eight of their children. Four more children were born in Canada, bringing the total number of living children to 12.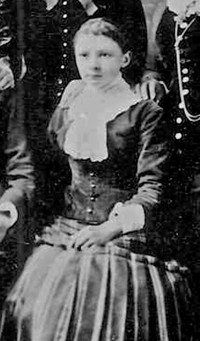 1885. Lorena Rimbey age 15 (Courtesy Ancestry.com).
The Marshalls moved to Langley from Alberta, Canada with 6 or 7 of their youngest children some time prior to 1916 and purchased property near the Furmans. The exact date of their arrival in Langley and their reason for moving from Canada are unclear.
Their son William (Bill) and Hazel Furman both appear in a photo of the high school class of 1916 in front of the new combined elementary and high school building in Langley suggesting they may have arrived prior to 1916.
1916. Langley High School class (Cherry, III., p. 36)
The Marshalls bought property south of Sandy Point Road on March 16, 1916, and there are deeds to the narrow strip between Sandy Point Road and Edgecliff Drive (Lot A) suggesting they may have owned that parcel as well before selling it in 1918. There are stories that there were hard feelings between the Marshalls and the Furmans due to encroachment by the Marshalls' sheep onto the Furman property "to the west."
1917: Claude Furman and Esther Marshall marry
Claude Furman was working for Fred Funk's Mercantile on Anthes Avenue and delivered groceries to the Marshall property where the Marshall's 16-year-old daughter Esther caught his attention. Claude invited her to accompany him on a delivery trip to Maxwelton during the summer of 1916, and a romance quickly developed.
At Christmas time, 1916, Claude gave Esther a "hope chest" as a sign of a proposed marriage. Neither family was in favor of a marriage because of Esther's age. The Marshall's planned to move back to Alberta and asked Claude to retrieve his hope chest. The couple had to think fast and devised a plan to elope.
Accounts of the story differ, but according to an article in the "Langley Islander" (Feb. 16, 1917), Claude did as instructed and retrieved the hope chest, that unbeknownst to her parents, was filled with Esther's "dainty lingerie and other belonging of the bride-to-be." He then arranged with Phil Simon at the Langley Marina to take the couple to Everett in his motor launch.
Under the pretext of visiting a friend, Esther walked to Brown's Point where she was met by Claude and Phil Simon and proceeded to Everett. The couple took the train to Vancouver, B.C. but learned they "needed a written consent for Esther" so they travelled back to Bellingham. It was after business hours and the courthouse closed.
They met the jailer who contacted a judge who granted them a marriage license then called a preacher who married the couple in the Judge's parlor around 9:30 pm on February 10, 1917. Claude listed his age as 20, but Esther fudged a bit and said she was 18 (she was born 2/27/1900).
1917. Claude and Esther Furman (Courtesy Sherri Haralson Templeton).
Claude wrote a letter to his mother describing the couple's journey and marriage, and asked how the family felt about it. He said they would remain in Bellingham until they heard. He signed the letter "Mr. and Mrs. Claude Furman."
Following the marriage of their daughter, the Marshalls returned to Alberta, Canada with their remaining children. The date on the border crossing document is not entirely clear, but may be March, 1917, i.e., a month after Claude and Esther's wedding.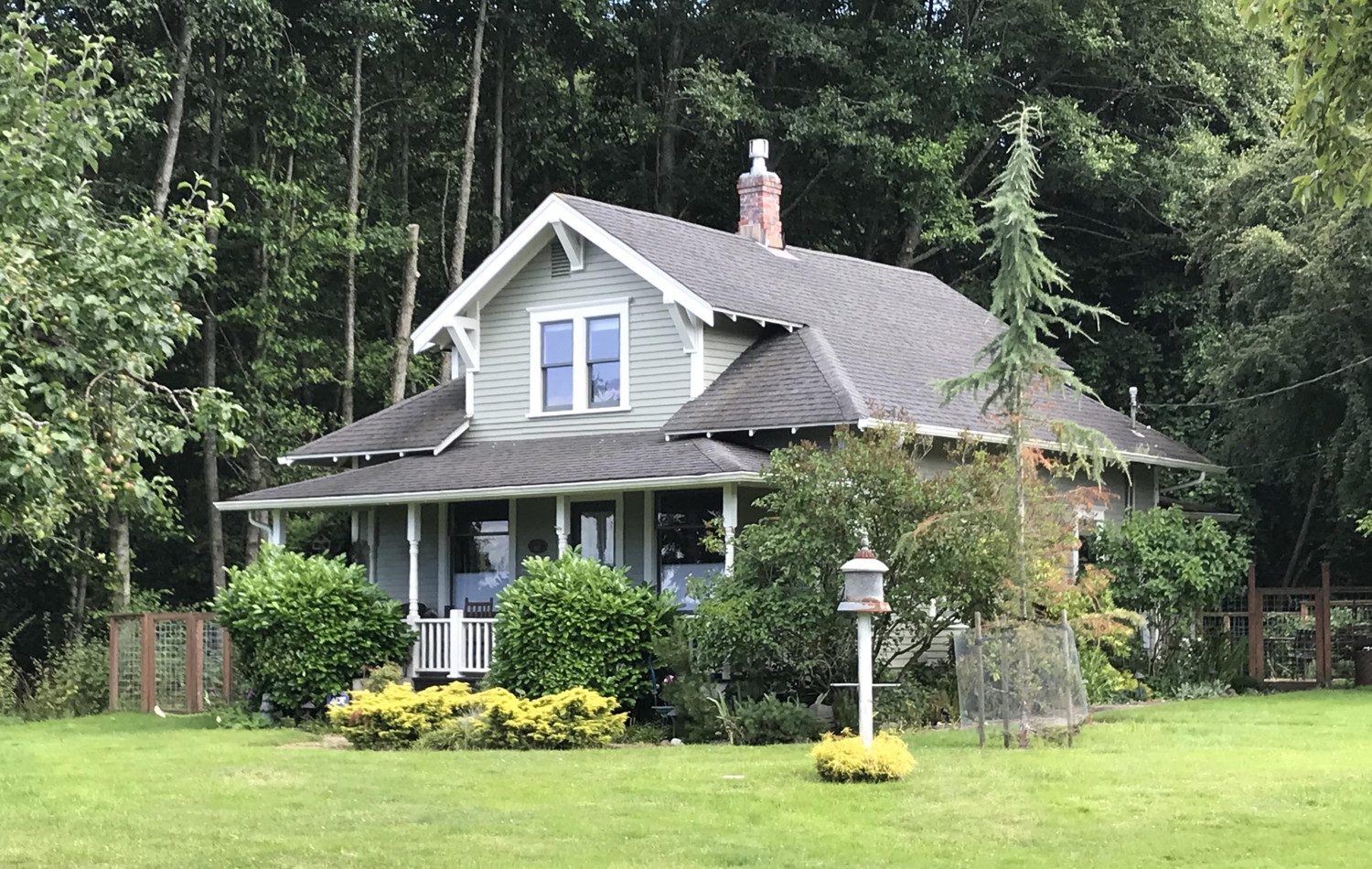 2022. N.E. corner of house (Courtesy Robert Waterman).