Harry and Ruby Furman house
637 Edgecliff Drive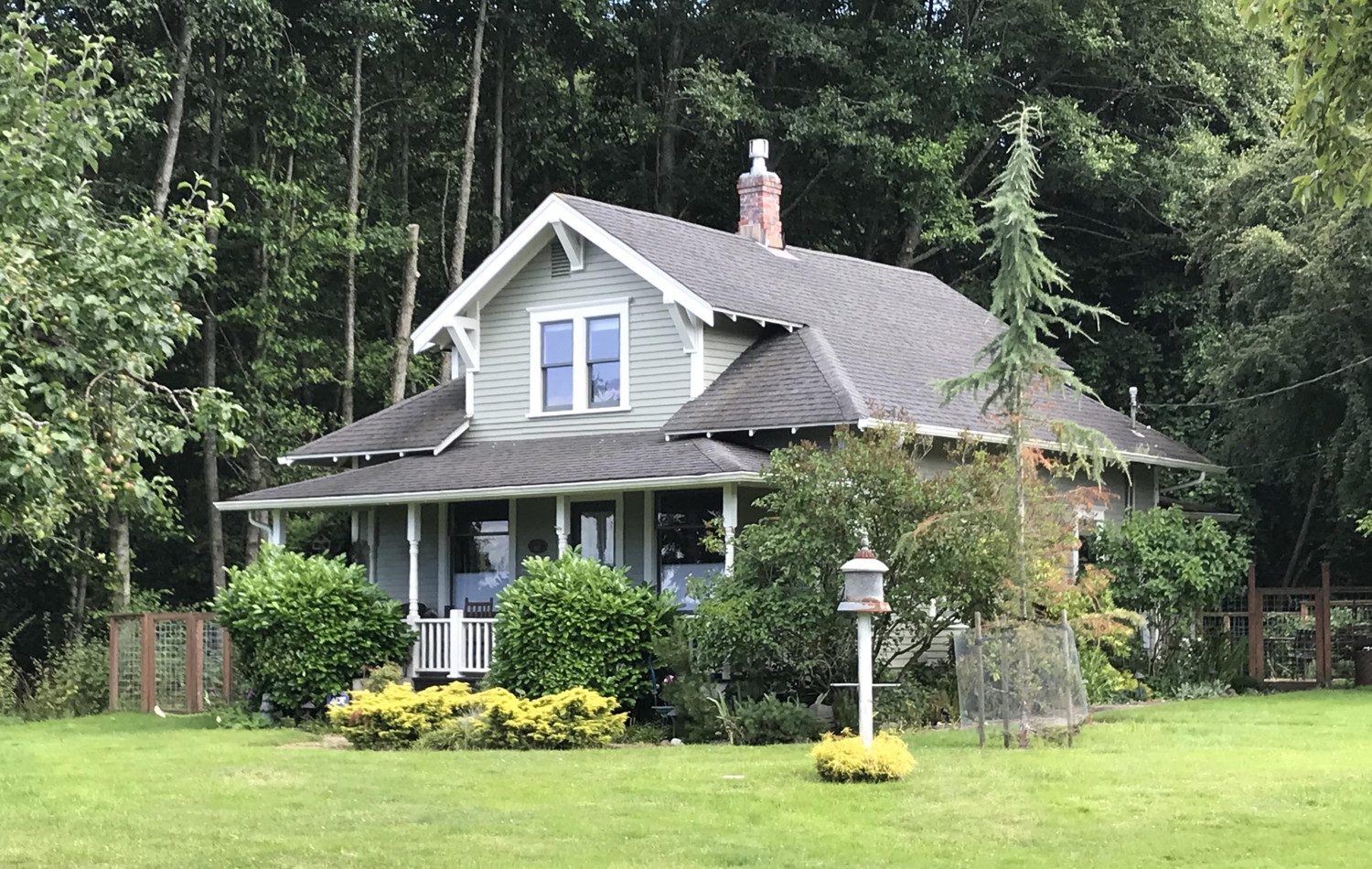 2022. N.E. corner of house (Courtesy Robert Waterman).
Island County Assessor records indicate the existing house was built in 1917, but who built it is uncertain. The property has had many owners over the years, including Harry and Ruby Furman who purchased the house and property in 1944.
1903: Furmans arrive on South Whidbey.
Frank Ensley Furman and Anna Marion Buckley were married 10/11/1890 and moved from Grand Rapids, Michigan to Everett in 1900.
Frank bought property with a small house from William Bump on the north side of the County Road to Brown's Point (later named Edgecliff Drive), and the family moved to Langley with their three boys, Frank, Jr., George and Claude in March, 1903. Their daughter Hazel was born July 26.1903. Another son, Harry E. Furman was born 8/15/1905.
1904. Furman family. (L-R) George, Anna, Frank Jr. Frank E. Furman holding Hazel, Claude (Courtesy Noreen Warnock).
According to Claude Furman, "The house was a shock to Anna. She cried when she saw it." It was roughly 10 feet wide and 20 feet long with a dirt floor. Frank, a carpenter, promised to build her a new house.
Circa 1906. Original Furman house (left), "new house" (right) (Courtesy Lloyd Furman).
Frank E. Furman was elected Langley's first mayor in 1913, and resigned in 1915 to became postmaster.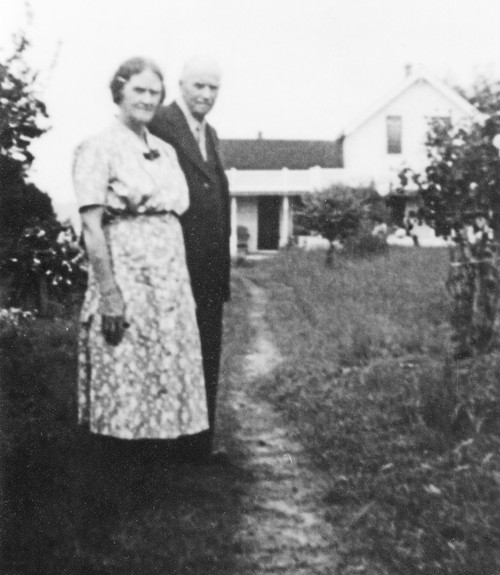 1942. Anna and Frank E. Furman in front of their house (Courtesy Lloyd Furman).
According to Frank's grandson Lloyd, " Frank E. Furman owned most of the land on both sides of Furman Avenue and all the way back to what's now occupied by the Cedars. He gave some of those properties to his children."
Prior to his marriage, Harry Furman built a house and started a two acre chicken farm on property fronting Furman Road given to him by his father on "December 6th, 1928 for the sum of $10" (Lloyd Furman).
1929: Harry Furman and Ruby Metcalf marry
Harry and Ruby Rose Metcalf were married 4/21/1929 in a double ceremony with Harry's brother George and Ruby's sister Ruth.
1929. Wedding photo of Furman brothers and Metcalf sisters. L-R: Harry, Ruby, George and Ruth (Courtesy Lloyd Furman).
Ruby, his 17 year old bride, became the instant foster mother of several hundred chirping baby chicks when she arrived at her new home on her honeymoon." (Cherry).
Harry and Ruby lived in this house with two of their three children (Vera and Lloyd) until 1944.
1941. Back row: Harry and Ruby Furman. Front row: Vera and Lloyd (Courtesy Lloyd Furman).
On July 26, 1944, Harry Furman bought the adjacent strip of property from Mary Aldrich (Lot A on the aerial view below) and moved into the house at 637 Edgecliff Drive. Their son Glenn Arthur Furman was born 9/12/1947.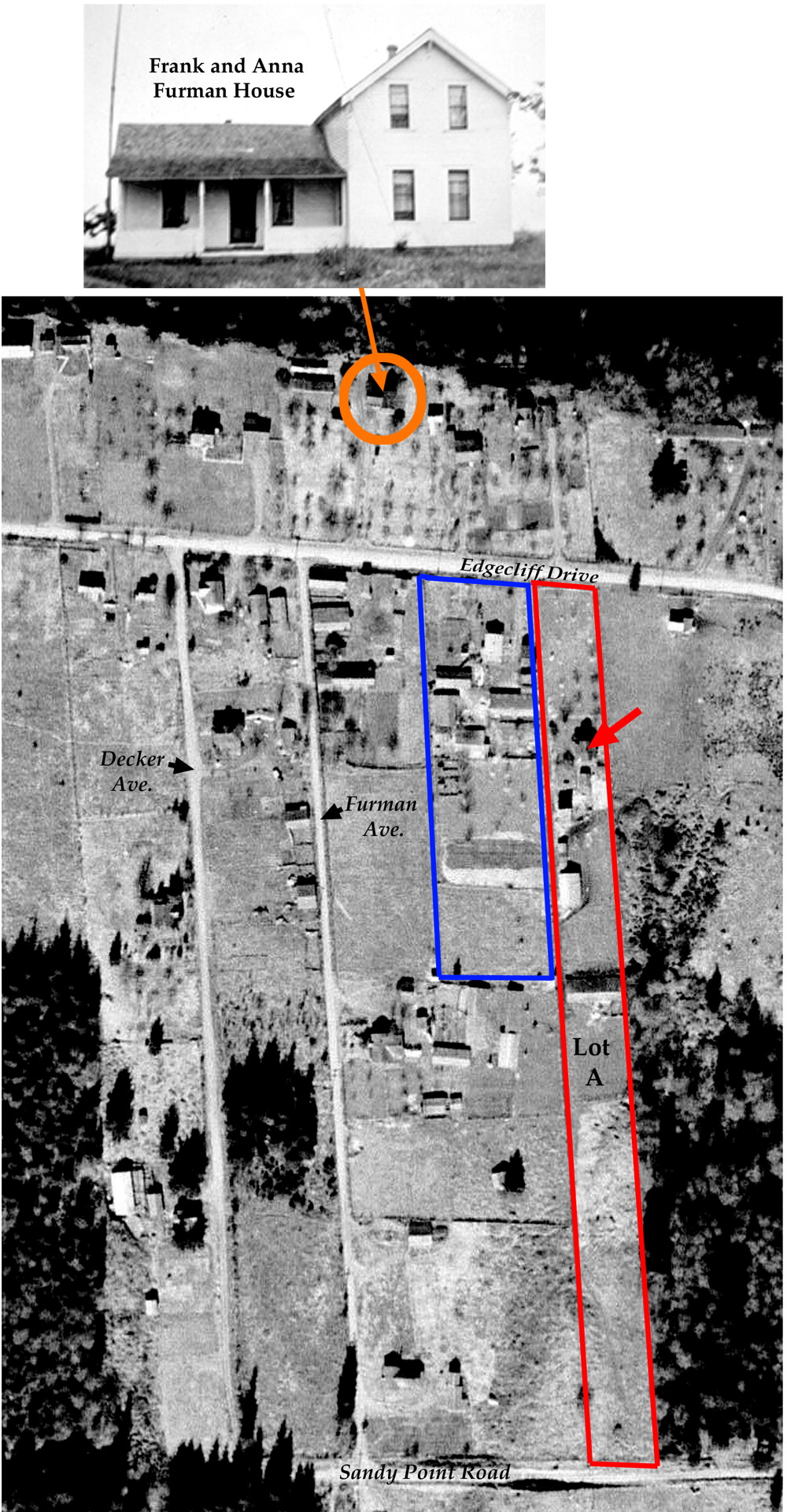 1946/47. Ariel view. Harry & Ruby's first property (blue). Strip with 637 Edgecliff Drive house (red arrow - Lot A) (Courtesy Whidbey Island Conservation District).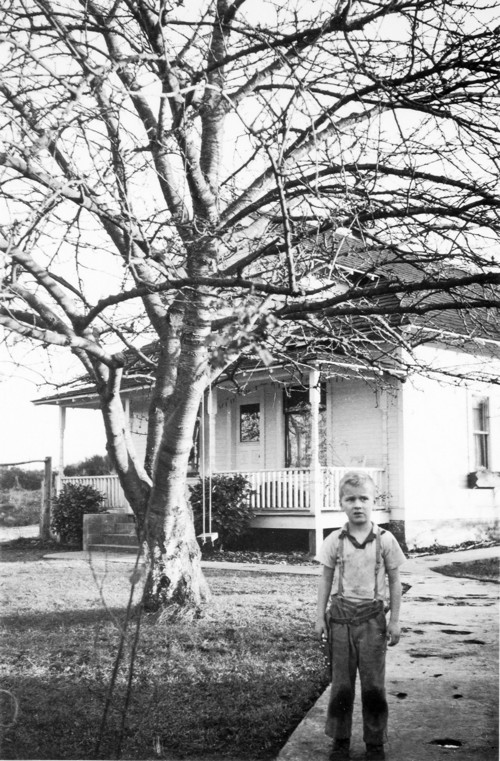 Circa 1954. Glenn Furman on sidewalk leading to house (Courtesy Lloyd Furman).
Harry Furman died suddenly in 1950. According to Lloyd, "Until 1950 when my father Harry E. Furman died, the only heat in the house was by wood. Also, a wood stove was used for all cooking and canning and hot water was from a heating coil in the stove. A propane gas heater was bought and a propane stove for cooking with a trash burner attached was installed in 1950 or '51. In approximately 1951 the electrical wiring was replaced, and a new foundation was installed."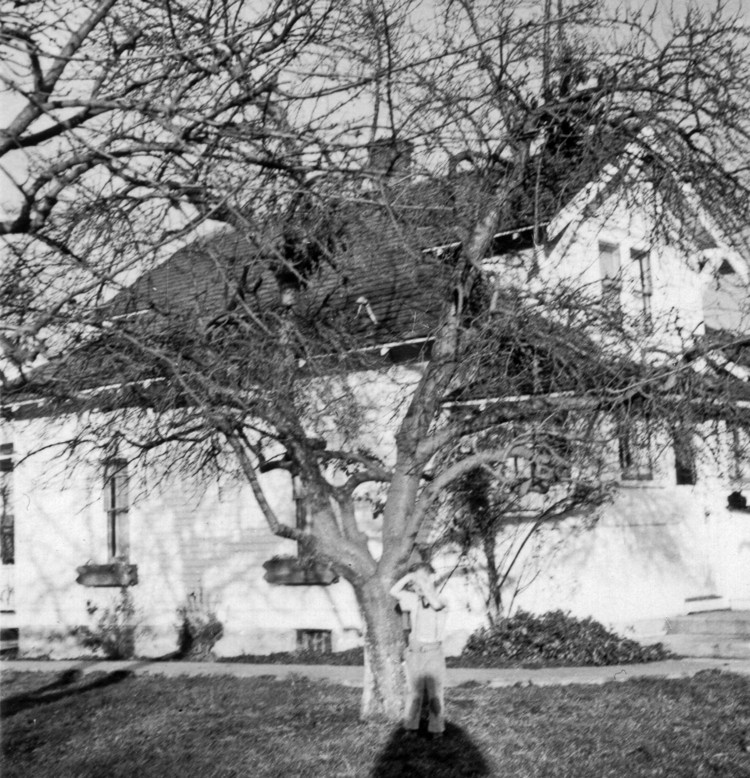 Circa 1954. N.E. corner of house. Glenn standing next to tree. (Courtesy Lloyd Furman).
Circa 1954. West side of house (Courtesy Lloyd Furman).
Circa 1950. Lloyd Furman and barn (Courtesy Lloyd Furman)
"The barn was torn done and the lumber was used to build a garage in the approximately the same location, probably in 1951 or 1952."
Circa 1954. Glenn standing in front of the shed (Courtesy Lloyd Furman).
"The upstairs addition of a kitchen was built sometime in the 1960s. The back porch was leveled (it used to slope to the south) sometime in the late 1970s or in the '80s."
Following Harry's death in 1950, Ruby continued living in the house until 1992 when she transferred the property to her daughter Vera and her husband John Anderson prior to moving to a retirement home in North Seattle. The property was subsequently sold to Linda Anderson in 1993. Ruby died in 1996.
Carl Magnusson bought the property in 2003, renovated the house and rented it out before selling it to Alberta Hansen in 2011.
2020. House and Garage with rabbits (Courtesy Robert Waterman)