William and Vella Howard Home
475 First Street
2020. North side of house (Courtesy Robert Waterman).
This house was associated with several families who played important roles in Langley's early history. The first of these was the Albert Melsen family.
Circa 1910: Albert Melsen builds the house.
Albert Melsen came to Langley from Nebraska in 1907 with his wife Amelia and their two daughters, Elva and Grace. Albert bought 11 acres on Edgecliff drive, then later moved the family to a small cottage on what became part of Fossek's farm where their son Lawrence was born June 7, 1911.
Circa 1909. Albert Melsen leaning on a wagon in front of the Livery Stable on First Street (Courtesy South Whidbey Historical Society.)
Albert was a carpenter and built a number of homes and important commercial buildings including the Olympic Club in 1908, the Methodist Church in 1909, and the Funk Mercantile building on Anthes Avenue in 1910.
On December 10, 1909, Albert bought two lots at the corner of First Street and Park Avenue from Jacob and Leafy Anthes and built a two story house there in 1910/1911.
Circa 1911. House at First Street and Park Avenue (arrow). Tree-lined Anthes Avenue in foreground (Courtesy Helene Ryan).
The Melsens moved to Gold Bar, Idaho in 1913 but returned to Langley in 1927 and Albert built a large home on Fourth Street and the alley later named for him, Melsen Alley.
In addition to several homes, Albert was involved in construction of the Clyde Garage, Clyde Theatre, Masonic Temple, Skipper's Restaurant, part of the Star Store on First Street, and was instrumental in obtaining help from the WPA to construct the Pole Building on the Fairgrounds in 1937. He helped install the Langley waterworks and dug the first three town wells. He also served as mayor for 16 years and as councilman for five additional years. Albert died in 1960.
After leaving Langley for Idaho, Albert sold the property at First Street and Park Avenue to Hans Peter Jensen in 1915.
1915: Hans Peter Jensen
The Jensen family came to Seattle in 1909 to visit the Alaska Yukon Exposition. While there, they made a trip to Wjidbey Island to visit their friends the Melsens, and moved to Langley in 1910. Hans purchased the Henry Bosshard property and home on what became part of the Fossek farm.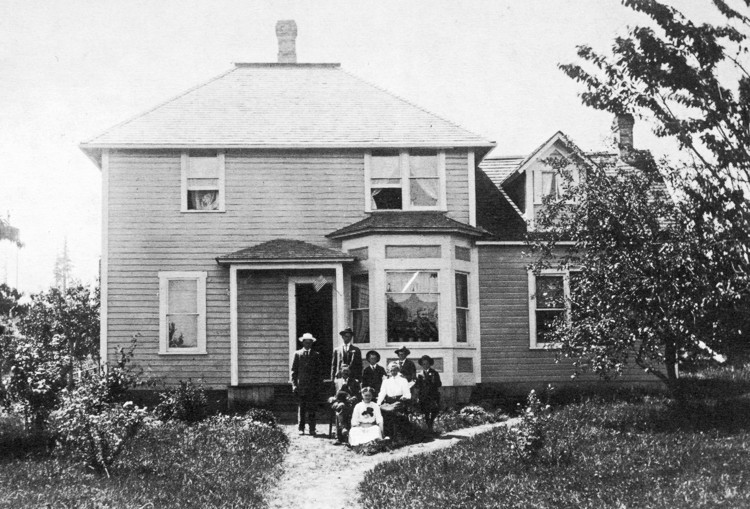 Circa 1912. Jensen family and their house on 6th Street (Courtesy South Whidbey Historical Society).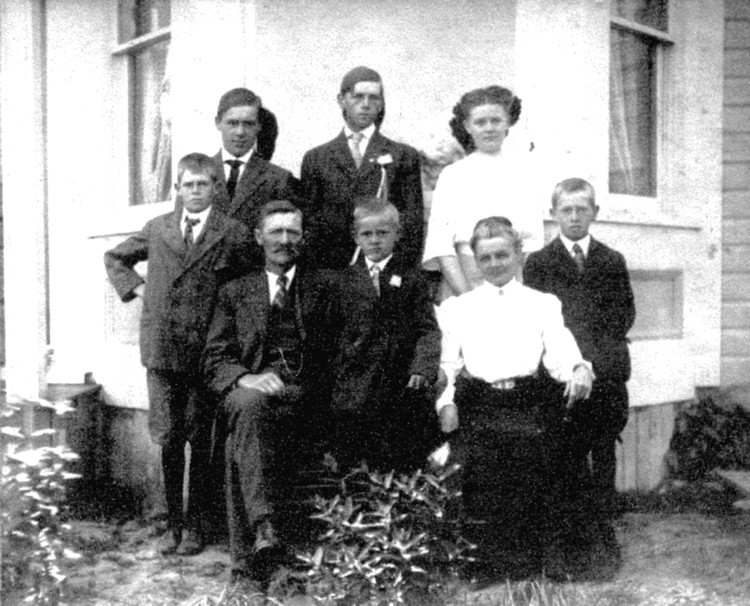 Circa 1910. H. P. Jensen family.(back row: Fred, Jens, Jake, Christine.; Front row: Hans Peter, Carl, Cecilie, Chris (Courtesy Carol Prato)
Hans was an entrepreneur. He bought several properties in the South end of the Island and several businesses in Langley. He bought the Langley wharf in 1912, and started improving the business there; adding a Cannery, Sea Breeze Confectionary, new warehouses, and a large dance pavilion. He also invested in the Telephone Company and Langley State Bank.
As more automobiles began appearing on the Island, Hans and his sons Jake and Fred started a "cars for hire" business at the dock. In 1922, "Hans bought out their competition (Bill Howard's livery stable on First Street) and liquidated the hay burners, because as Jake put it 'You couldn't make any money feeding all those nags.'" (Everett Herald, 1967).
Hard times hit the Langley business community in the late second decade of the 20th Century and 1920s. The bank defaulted in 1918 and the Cannery closed in 1921. Hans divided his holdings among his sons and in failing health, committed suicide in 1923.
The property at First and Park Avenue was sold to A. J. and Irene Benton in June, 1818, who sold it to Frances Ackerman in June, 1923. Four month later, the Ackermans sold the property to William E. and Vella M. Howard (11/17/1923).
Who may have lived in that residence between the time it was built and when William and Vella purchased the property in 1923 is not clear.
1923: William and Vella Howard
William ("Bill") Edwin Howard, eldest son of Edwin and Clara Howard, came to Langley from Nebraska with his family in 1903. Ed built a store and living quarters for their large family at the corner of First Street and Anthes Avenue. The building also became the post office when Ed was appointed post master in 1904.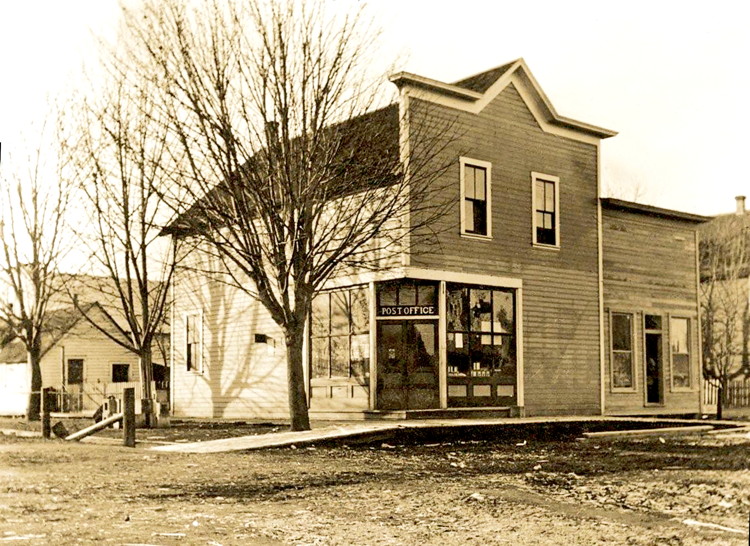 Circa 1908. Howard store and post office. (Courtesy South Whidbey Historical Society).
At age 24, William married 18 year-old Vella McDonald in Everett On May 11, 1911. They were met by a horse and wagon when they arrived at the Langley marina and driven up into town. A sign on wagon read: "Wm. Howard and wife"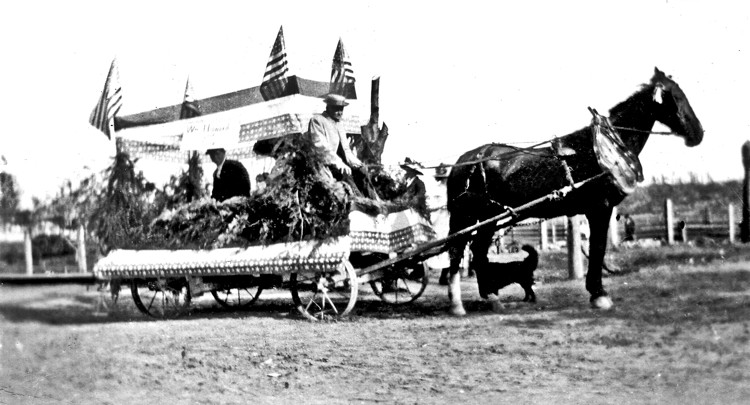 1911. Newlyweds William and Vella Howard. (Courtesy Joan Handy).
Exactly where the newly weds lived immediately following their marriage is not certain, but it's likely they moved in with the Ed Howard family who were living in the former Olympic Club.
After his store burned "under suspicious circumstances" in 1911, Ed Howard reestablished his store and the post office in the first floor of the Olympic Club and the family lived upstairs. In 1912, Ed turned the business over to his son-in-law Walter Hunziker, who renamed the business the "Langley Mercantile and General Merchandise Store."
1913. Langley Mercantile and General Store and port office in former Olympic Club. (inset: Walter and William ("Bob") Hunziker) (Courtesy South Whidbey Historical Society).
Walter and his younger brother William ("Bob") ran the store 1913 to 1915 when Bob decided to go to Alaska. The store was then renamed "Howard's Confectionary." Food and sundries were sold in front, and there were card tables and pool tables in back.
1922. Howard's Confectionary (Courtesy South Whidbey Historical Society).
William and Vella had three children; Donald Edwin Howard born 8/12/1912. William, Jr. (1/17/1917), and Vella Jean (5/25/2922).
As their family grew, less cramped living quarters than the old Olympic Club were probably needed. According to Winnie Hunziker, members of the Howard family were living part time in the Olympic Club and part time in the houses Ed Howard had further up First Street.
Around 1908, Ed had two buildings moved from Seattle and placed next to each other on the South side of First Street between Park Avenue and Saratoga (DeBruyn) Avenue.
Circa 1911. Ed Howard's two houses (future Maine Stay) (Courtesy South Whidbey Historical Society).
Sometime after their arrived in Langley, the two houses were connected and a gambrel roof placed over them.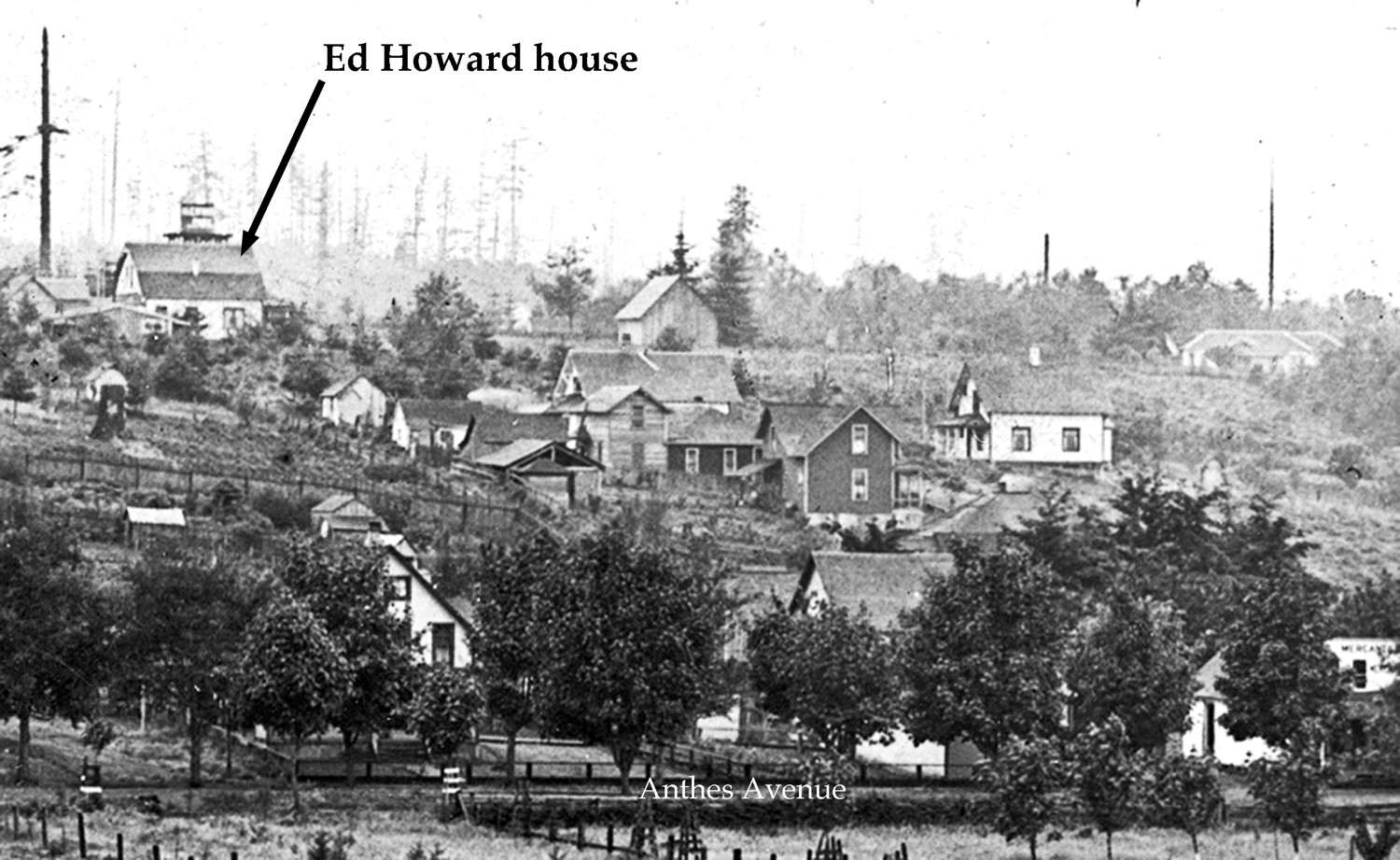 Circa 1914/1915. Gambrel roof over Ed Howard houses with gambrel roof (Courtesy Island County Historical Society).
An article in the Island County Times dated February 27, 1914 may refer to the completion of this construction on the Ed Howard houses (future Maine Stay):
"Will Howard's new home will be completed this week and they will move in. On Thursday evening the Junior Whist Club will meet with them and give them a good house warming."

"A cowardly turn was done last week by some one shooting towards Will Howard's house, the bullet striking four feet from the window where Will and his wife were sitting. The shot was fired from the street between the livery stable and the post office and was heard by several but no one saw who the party was. There are too many drunks around town and they should be severely dealt with according to the ordinance."
Ed Howard was elected to the first Town Council when Langley was incorporated in 1913, and William served as town marshal in 1914. Bill and Vella were living in Everett in 1920 with their two boys when Bill's father called him to return to Langley and take over the Confectionary. It seems they may have moved to Everett for only a short time, since William's WWI draft card (1917/1918) lists his residence as "Langley."
An addition was added to the East side of the original house sometime in the 1920's, most likely by William and Vella. It is not present in photographs of First Street in the early '20s, but does appear in the 1929 Sanborn Insurance map of Langley.
1929. Addition (arrow) on East side of house (Courtesy South Whidbey Historical Society).
John McLeod worked at the Confectionary as a teenager in the 1920's. He and Bill Howard, Jr. swept the floors after the movies and were paid in ice cream cones. "I'd go into the back room upstairs if Mrs. Howard was working the counter and wait until Mr. Howard came in, He paid me with two scoops. She only gave me one."
In 1935 with his health declining, William called his son William Jr. back from Everett to help manage the Confectionary. Following William's death in 1937, Vella renamed the Confectionary the Doghouse Tavern.
In 1944, Vella's children William, Jr. and Vella Jean Holt, heirs to the property at First Street and Park Avenue, deeded it to their mother. Vella continued living in the house on First Street and took in renters including several school teachers until she went to a nursing home where she died in 1973. The property was then sold to Ronald and Patricia Rice July 18, 1973.
According to Ron Rice, "The addition on the east side was to double the size of the living room on the first floor and add a bedroom on the second floor. One thing about the addition that may be interesting was the way they compensated for taking out the outside bearing wall. Instead of installing a beam to support the roof structure they hung some 2x4 boards from the roof rafters to the floor joists. That left the bedroom floor rather free to bounce. We had a beam installed to compensate for that. Apparently there was not much in the way of building codes or inspection at that time."
The Rices also had a chimney that was initially on the south side of the addition moved to the east side. "The original fireplace that was there in the expanded living room was torn down and moved from the South facing wall to the East facing wall in the late 1980s, and the old bricks were used in the new fireplace."
Circa 1971. Chimney (arrow) on the south side of the addition (Courtesy South Whidbey Historical Society).
2021. East side of addition seen from First Street (Courtesy Robert Waterman).
The Rices sold the property to Faith B. Bushby (4/27/1994) who sold it to Erin and Don Blakeney (The Couper Group, LLC) (9/6/2018).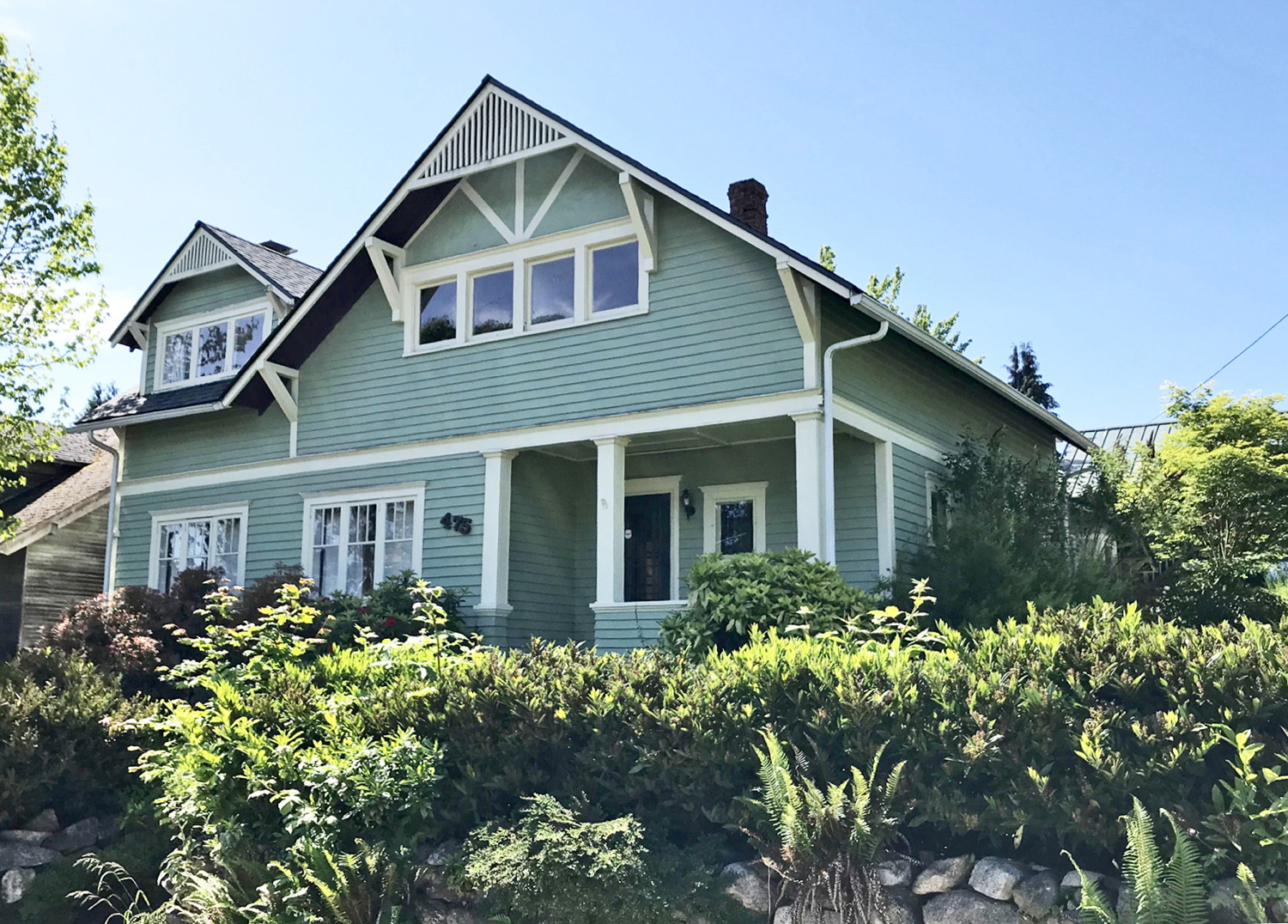 2020. 475 First Street (Courtesy Robert Waterman).