Beachum/Lovejoy House
402 Anthes Avenue
The house built in 1908 was owned by Walter Fred Beachum in 1910. A Tulipifera tree, planted on the East corner of Fourth Street and Anthes when the home was built, is a prominent feature of the site and is now located within the Fourth Street right of way.
Circa 1911. W. F. Beachum house (Courtesy "Island County – A World Beater").
In 1900, Walter and Susan Beachum were living between Langley and Useless Bay on what is now Newman Road.
Soon after 1900, Island County came under pressure to improve transportation conditions from the south end of Whidbey Island to the county seat at Coupeville. Road construction began between Langley and Useless Bay and Walter served as the County Road Supervisor from 1909 to 1910 when he was elected to the Board of County Commissioners (BOCC). He served on the Board of Island County Commissioners from 1911-1914; the last 2 years as chair.
Sometime around 1910, the Beachum family moved to Langley and occupied the house at Fourth Street and Anthes Avenue. Walter served as Langley's town marshal from June 1 to September 7, 1920 in Langley's All Women administration.
It is not entirely clear exactly how long the Beachums lived in the house. An article in the Island County Times, dated October 17, 1919 states that "W. F. Beachum has sold his house and several acres to a Mr. Brown from Oregon. Ed Howard negotiated the deal."
The Beechums moved from Whidbey to Everett in 1930 where Walter died on August 17, 1933, aged 82. His wife, Susan, died in March, 1936. Both are buried in the Evergreen Cemetery in Everett . T
he next person to occupy the house was Captain Bartlett Howard Lovejoy. Bart, his wife Avanelle and daughter Gretchen, were living in Langley in 1920 and 1930 according to the Federal Censuses.
1914. L-R: William Hunziker, Stanley Hunziker, Cliff Baker, and Bartlett H. Lovejoy (Courtesy Bill Hunziker).
Bartlett ("Bart") Howard Lovejoy was born in Coupeville, WA in 1886. He attended the University of Washington, and was part of the University's crew involved in a well-documented incident with the Stanford crew held on Lake Washington in 1910 in which the Stanford boat broke in half in rough water. He married Avanelle Borland in 1911, and their daughter, Gretchen, was born March 3, 1913.
Bartlett came from a prominent family of boat builders and ship captains. His father, Howard Bartlett Lovejoy, was a steamboat captain on Puget Sound. He purchased the sternwheeler, Fairhaven, in 1906 and founded the Island Transportation Company in 1911 adding the steamers Atlanta, Clatawa, Calista, and Camano to his fleet.
His uncle L. Bentley Lovejoy and a brother Stanley Todd Lovejoy were respected Puget Sound pilots. Another brother, Frank
Edward Lovejoy, founded the Puget Sound Freight Line. In 1918, Bart and Avanell were living in Everett and Bart was attending Captain Smith's Navigation School. He took over as captain of the steamship Calista (named for his grandmother) when Captain Arnold retired in 1920.
Circa 1922. Calista at the Langley wharf (Courtesy Darrell Corbin).
Bart was piloting the Calisa on the morning of July 27, 1922 when it was rammed by a Japanese freighter and sank in 28 minutes off West Point near Elliot Bay. All aboard were saved through quick action of Captain Bart and his crew.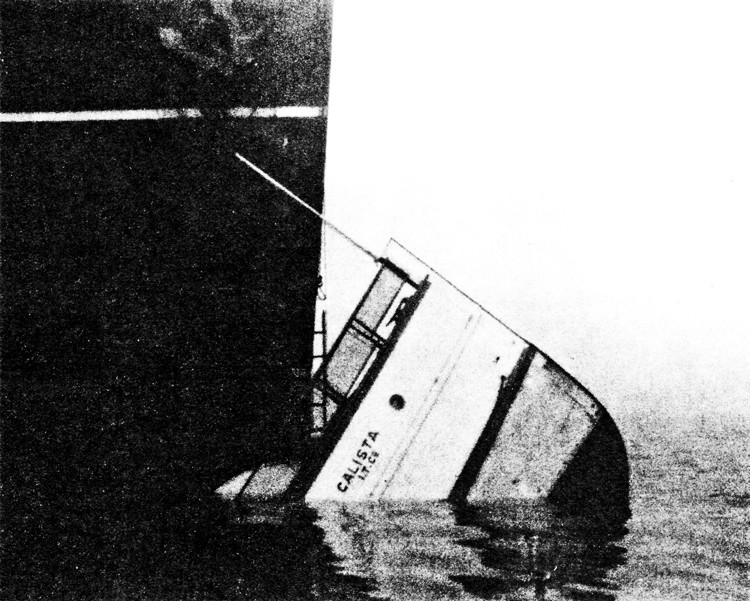 Circa 1922, Calista on the Bow of the Hawaii Maru (Courtesy Puget Sound Maritime Historical Soviety).
In addition to Bart, survivors from Langley included Ruth and David McLeod, Francis Dills, Victor Primavera, Rowena Corless, and newly appointed Langley Mayor Margaret McLeod. The former Captain of the Calista, Henry Arnold was also aboard as a passenger.
His WW II draft card dated 1942 indicates he was living in Seattle and working for the Puget Sound Freight Line.
The next owner of the house was Richard ("Dick") A. Luhn, a well known real estate agent in Langley for many years, purchased the house in 1943 and made several architectural changes.
He enclosed the front porch, adding a picture window on the East side. The front door was relocated from its original location facing Fourth Street to the west side of the porch opening onto Anthes Avenue. A breakfast nook was added on the east wall, diagonally from the front door, and the back porch on the south side was enclosed.
He also built a barn that featured an interior pipe designed to capture water flowing from a spring up the hill for watering his cows. He also ran a water pipe to a fountain in the front yard.
He sold the house and property to Benjamin ("Ben") Breedlove in 1964. There was a wide side yard with lots of roses. The pavement on Anthes Avenue ended at Fourth Street, and from Fourth Street to Sixth Street, Anthes Avenue was a 30 foot wide road.
1966. Ben Breedlove and his mother (Courtesy Ben Breedlove).
Benjamin was born May, 1934 in West Plains, Missouri. His father came to the area to work during WW II, and Ben, his mother (known as "Granny B"), sister Bonnie, and brother Bob came by train to join him. He started elementary school in Langley in 4th grade and graduated from Langley High School in 1952.
His parents divorced in 1946 when Ben was 12, and his father left the family. Ben, his mother, brother and sister moved several times; including a time upstairs in the old Livery Stable building on First Street in Langley and the old "DeBruyn Building" next to the Star Store across the street. His mother took in laundry, and Ben helped get wood to feed the fire to dry the clothes and ran the mangle.
Ben was drafted into the Army in 1954. He was in Germany when Richard Luhn called him long distance about buying the house on 4th and Anthes. Ben gave him a lot he owned in Windmill Heights above Bush Point as down payment and started making monthly payments.
He retired from the military in 1974 and worked overseas until 1984 when he returned to Langley and lived in the house from 1984-1989. He then went to work for the Saudi Arabian Airlines until 2004 when he again returned to Langley.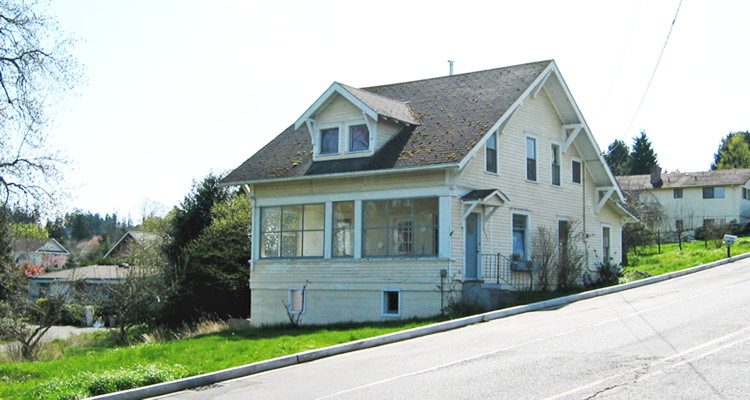 2004. Breedlove house (Courtesy Robert Waterman).
In 2005, the roof was replaced using rubber shingles, and plastic siding was placed directly over the original cedar plank wall cladding.
2007. Breedlove house (Courtesy Robert Waterman).
The house was put on Langley Register of Historic Places 2012
2012. Breedlove house (Courtesy Robert Waterman).
The house was sold to Kristian and Katrina Bentsen in 2019.