Wylie Birthing House
321 Edgecliff Drive
1908. Wylie family portrait. L-R: Chester, Lillian, Myrtle, Francis, Ruby (Courtesy Connie and Seth Mackie).
In 1910, Gabriel Gardner purchased a seven and one-half acre lot from Everett realtor, Francis Wylie and began construction of this two-story building. In 1913, Mr. Gardner defaulted on the property, and Mr. Wylie took over the lot and shell of the house. He completed its construction and moved his family into the house. There were 4 chicken houses, a barn, and an outhouse behind the house.
The Wylies separated and subsequently divorced. Lillian, remained in Langley with their three children and did a number of jobs to take care of her family. According to Lorna Cherry, "She took in washing and ironing, charging 10cents for washing, starching and ironing a shirt. She maintained a vegetable garden and also raised chickens and dug clams, often rowing to Camano Island where clams were plentiful and considered especially tasty. She also worked in the strawberry barreling plant at the Langley Marina."
In addition, Lillian also helped deliver babies, including her own granddaughter. Ruby Wylie married George McGinnis who lived across the street in 1915. They were living in a house on Decker Avenue in 1916 when their daughter Enid was born. According to Connie Mackie, "The arrangement was that when Ruby went into labor, George would raise a dish towel on the clothes line, and Lillian would come over and help deliver the baby."
Circa 1920. Lillian Wylie and granddaughter Enid on porch of the Wylie house (Courtesy Doris Matz).
Lillian Wylie was elected to the all-women Langley Town Council in 1919, and her barn was used to house cows that were removed form Langley's streets and held until bailed out by their owners.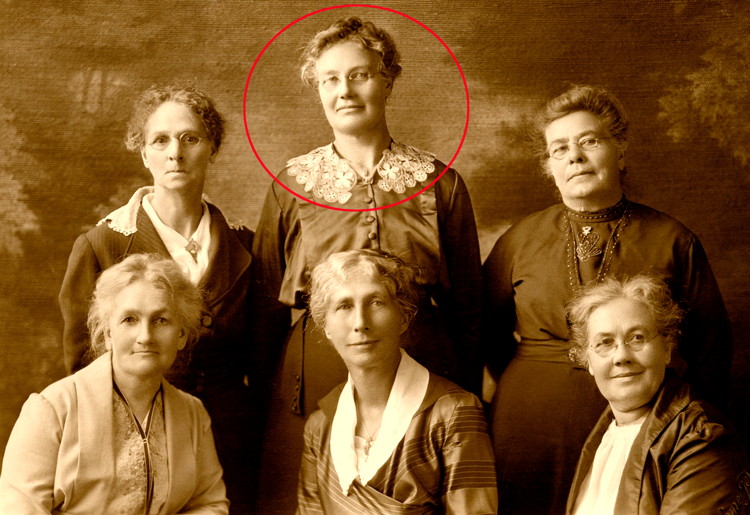 1920. Langley's all-woman administration.
Front row (L-R): Mrs. Grace English, Miss Helen Coe (Mayor), Mrs. Emma Monson.
Back row (L-R): Mrs. Clara Brown, Mrs. Lillian Wylie, Mrs. Maggie McLeod. (Courtesy Karen Pauley).
Although she did not have a formal degree, Mrs. Wylie read whatever she could regarding nursing practice, and attended the births with visiting or local doctors. She set up a nursing home and birthing center in her home. According to Frances Johnson who was born there in 1927, "Mrs. Wylie had rooms and facilities upstairs for mothers and newborn babies." Lillian also took in elderly, or terminally ill, patients, and took care of accident victims.
The property was purchased by a Mr. Darlington in 1940, and then Mr. Palmerston in 1950 who replaced the original chimney. A three-room addition was added to the south side of the originally 24' X 30', rectangular house by Lon Chase circa 1950, and the interior of the house was also remodeled at that time.
Lillian Wylie died in 1953 and is buried in the Langley Woodman Cemetery.
The house was sold to a Mr. West in 1961 who added a carport on the west side. He also demolished the old pump house and built a new one. The house was sold to Doris Matz in 1986. Asbestos shingles that had been placed over the shiplap siding on the east and west sides in 1961 were removed and replaced with cedar shingles in 1992. Also, the original cedar shake shingles were replaced with asphalt shingles when a new roof was added in 1991.
Circa 1991. Addition on the rear of the house (Courtesy Doris Matz)
An access ramp was added on the west side leading to the front porch in 1993.
The decking of the lower front porch was replaced and the house painted in 2007. Vertical elements were added to the east side of the deck railing to match those on the west side. Original decretive features in the supports of the upper porch were retained.
The house was placed on the Langley Register of Historic Places in 2009.
2020. Birthing house (Courtesy Robert Waterman).