Phil Simon House
203 Wharf Street
In 1910, 27 year-old Phillip George ("Phil") Simon was living in Mukilteo with his wife, Anna, and working as a "saw filer" in a lumber mill. Their daughter, Evelyn, was born in 1911.
Circa 1915. Phil Simon family: Anna, Evelyn , Eleanor, Phil (Courtesy Phillip Simon, Jr.).
The family came to Langley on his boat Caprice in 1911 and settled into the little house across the road from the Langley wharf. A daughter, Eleanor was born in 1914, and a son, Phillip Charles in 1924.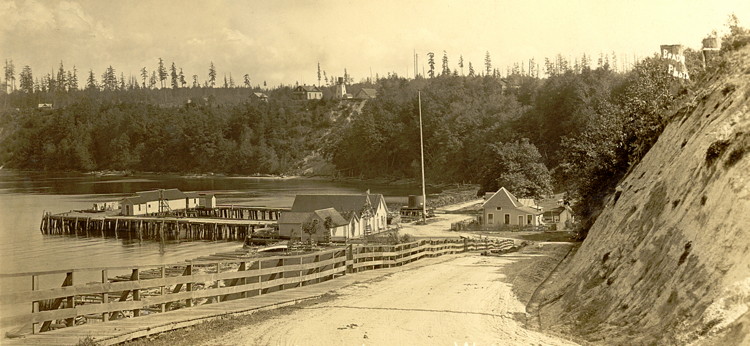 1911. Langley Marina with little house at the foot of Wharf Street (Courtesy Mary Solak).
"Phil was just an ordinary man, unpolished, given to straight talk and to smoking a pipe" (Cherry, III, p. 122). He was a man of many talents; ice cream vendor, first Town Fire Marshal, installed Langley's first water system, delivered the Seattle P-I, and ran Langley's electrical plant from 1916 to 1930.
Phil owned two launches. According to Phil's friend William McGinnis, "Phil was a hustler and soon had a float for his boats and was renting them out. He used the four passenger Caprice for short charter trips. He next bought the Captor which could comfortably carry twenty passengers out of the rain and wind.
Ester Anderson Moe remembers, "going with my parents on one of his launches to Everett to hear Billy Sunday."
Circa 1910, Phil Simon in "Caprice" (Courtesy South Whidbey Historical Society).
Circa 1920. Phil Simon on his boat "Captor," His wife Anna and daughters , Eleanor and Evelyn, on the beach (Courtesy Phillip Simon, Jr.).
Hans Peter Jensen bought the Langley wharf from Jacob Anthes in 1911 and began making changes, A larger warehouse was constructed to replace the several smaller ones on the wharf. Two smallest ones were moved to the foot of the dock and joined to form the Sea Breeze Tavern that became the "Sea Breeze Confectionary" during prohibition selling candy, soft drinks and tobacco." (Marj Dente)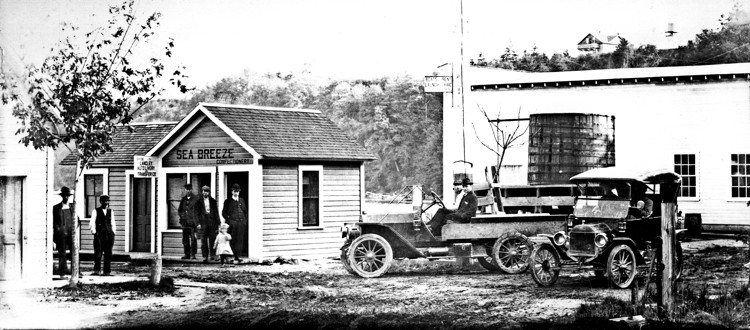 Circa 1963. Addition on south side (Courtesy South Whidbey Historical Society).
According to Bill McGinnis, "...Phil Simon's little 'Sea Breeze' store was a good place to stop. The sheet iron stove showed two red spots. Inside was Eb Boynton and Jake Jensen from the warehouse and 'Goldie' Goldsmith with the fiery red whiskers which were never more nor less than half an inch long. Phil's younger brother, Herman, who ran the store for Phil, was arranging candy bars and salmon spoons in the glass case."
Jensen also constructed a large Cannery and Creamery adjacent to the Sea Breeze. When the Canning Company folded, Phil moved his confectionary into the building and had a restaurant and tavern there.
Circa 1918. Newspaper clipping of Evelyn and Eleanor holding ice cream with their mother in front of the house (Courtesy Lorna Cherry)
Circa 1922. Simon house at foot of the wharf. Standard Oil tanks (right) (Courtesy South Whidbey Historical Society).
The Simon house was enlarged in the 1920s and remodeled several times thereafter.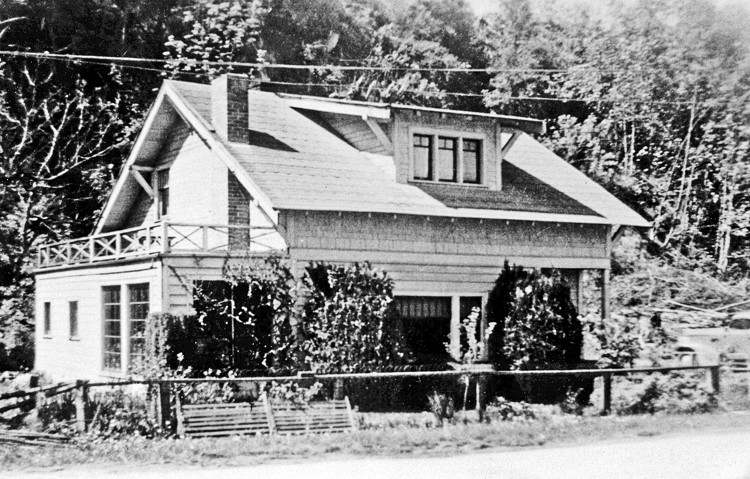 1920's. Simon house (Courtesy South Whidbey Historical Society).
Phil Simon died in 1959.
Barney Hein and his wife Marjorie bought the old brush packing plant and opened the "Langley Marina" there in 1960. He later purchased the Phil Simon house and used it as a site for used boats.
1920's. Simon house (Courtesy South Whidbey Historical Society).
The building fell into disrepair.
1920's. Simon house (Courtesy South Whidbey Historical Society).
Bob and Pat Drake purchased the Phil Simon house from owner Barney Hein in 1875 and opened it as a four room little inn called "Drake's Landing" after an extensive remodel. According to Christina Drake, "It was condemned when the Drakes bought it from Barney Hein. Dad but in a new foundation. Basically rebuilt it from the ground up."
1985. Robert (Bob) Drake on porch of the old Simon house (Courtesy Christina Drake).
2004. Drake's Landing (Courtesy Robert Waterman)
Robert Drake died August 15, 2000, and the property ownership transferred to his wife Patricia, then to their daughter, Christina in 2005.
In 2014, Paul Schell bought the house for the Inn at Langley.
According to Pam Schell, "Paul bought it and planned to build beside it a few inn rooms and the elevator which he would turn over to the city. Our Inn keeper Kim Wetherell lives and does some work there. And the Inn rents space to Whidbey Kayaks."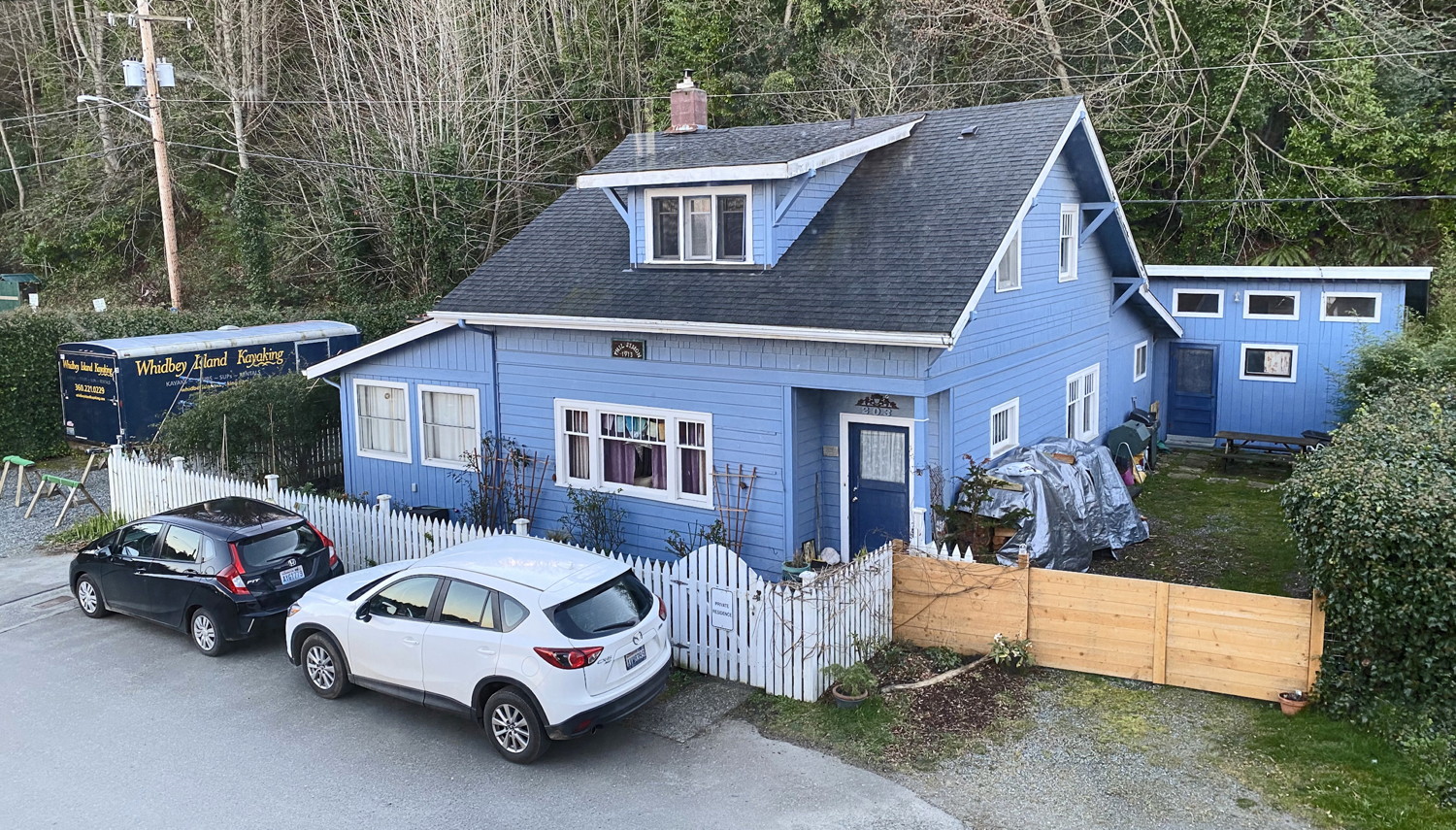 1920's. Simon house (Courtesy South Whidbey Historical Society).