400 First street
Inn at Langely (Howard Hotel)
Circa 1909. First Street looking West (Courtesy Maureen Duryee).
The Roderick McLeod family arrived in Langley from Nebraska in 1905. Roderick worked in his father-in-law Ed Howard's store and post office for a time, then together they built a two-story hotel on the North side of First Street that became known as the "Howard Hotel." Roderick also built a house for his family just east of the hotel.
Prior to 1920. Howard Hotel (Courtesy South Whidbey Historical Society).
Roderick's wife, Sarah, ran the hotel with help from their children (Vera, Annie and Howard). Annie baked bread and provided a chicken dinner for 25 cents for guests and locals. Water for laundry was carried from an outdoor pump and heated in large tin tubs on a wood-burning stove. "Everything was then carefully ironed with heavy metal irons heated on top of the stove where a fire had to be kept blazing, even in summer, to keep the irons hot."
Since there were no electric lights, all of the rooms were lighted by kerosene lamps which had to be filled regularly. The lamps had glass chimneys which had to be cleaned after every use as the burning wicks made them sooty. The wicks also needed trimming and cleaning of charred material after use. In spite of the workload, Sarah McLeod found time to serve as midwife for most of the new mothers of the community since there was no local doctor until several years after her arrival. (Cherry, vol. III).
April 4, 1926. Stanley Hunziker and son Bill across First Street from the Howard Hotel. The Roderick McLeod home is seen at the right. (Courtesy William Hunziker).
1950's: Howard Hotel demolished
June, 1988. (Courtesy Marjorie Dente).
The Howard Hotel was purchased by realtor Richard Luhn and demolished in the 1950's. The lot remained vacant for many years and served as a picnic spot and playground.
1989: Inn at Langley built
1989. North side of Inn at Langley (Courtesy Paul Schell).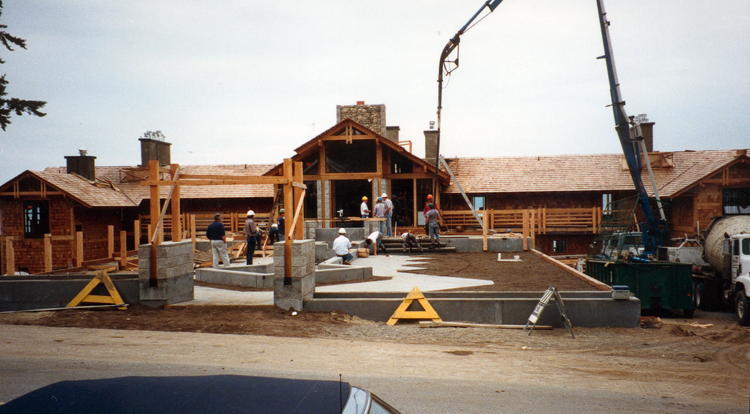 1989. Entrance to the Inn at Langley (Courtesy Paul Schell).
Paul and Pamela Schell and partners built a luxury hotel called the "Inn at Langley" on the site on the former Howard Hotel in 1889. "The city had built a seawall giving us the idea of building an inn two stories above the bluff and two stories below, with the rooms, deck and jacuzzi on the waterside. The dining room was a part of the plan to attract weekend guests. The Inn at Langley opened in 1989 and has since become an established year-round booster to the local economy. We decided to add two cottages and a spa in 1999, and the Saratoga and the Gallery Suites in 2008, making the room total now 28." (Pam Schell).
2016. Entrance to the Inn at Langley (Courtesy Jim Sundberg).