224 First Street
Chocolate Flower Farm (Palace of Sweets / Pool Hall / Barbershop / Ice Cream)
Circa 1907: Palace of Sweets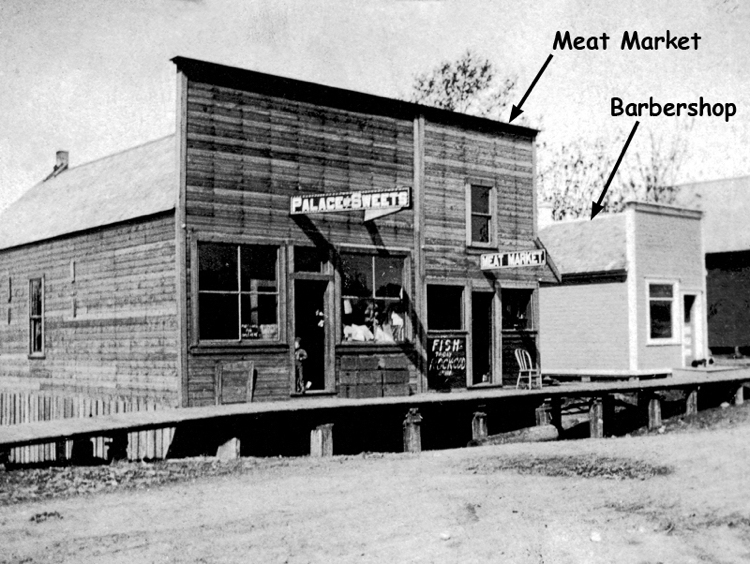 Circa 1907. North side of First Street (Courtesy Karen Pauly)
One of the first businesses to appear along the north side of First Street in 1906 included the "Palace of Sweets," a confectionary and pool hall. Others included a meat market, barbershop, blacksmith shop, and livery stable. Most of these buildings were raised above street level to avoid flooding by the creek that run across the road here at times. A raised plank walkway was also provided for the comfort of the pedestrians.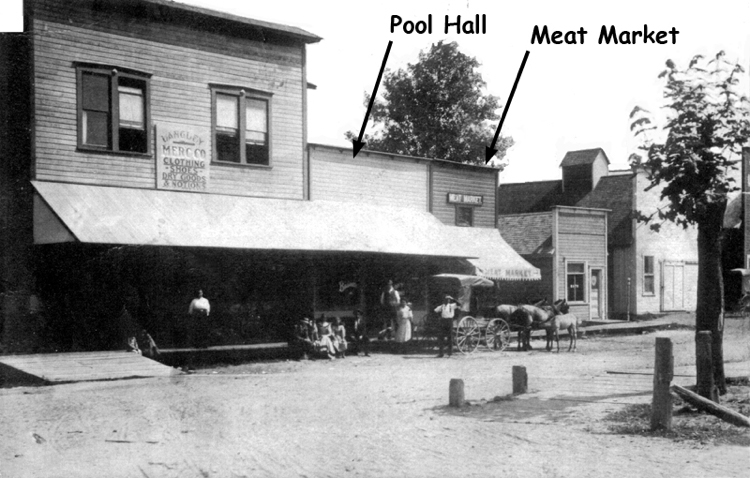 1914. Pool Hall/Confectionary between Langley Mercantile (now Dog House) and barbershop (Courtesy South Whidbey Historical Society)
William McGinnis, who was in 6th grade in 1914, remembers that: "Two men, Mr. Krieger and Mr. Swartz, came to town and bought the poolroom and confectionary by Henry Weber's meat market. Swartz was dark and hairy and kind of fierce looking while Krieger was paunchy, older and near-sighted. He wore thick glasses and squinted out at everything, with his lips drawn back and his teeth set. They were different from our local citizens but seemed bent only on keeping the store and making a profit. A year later, when they failed to make the profits they had anticipated, Krieger and Swartz sold out and left town."
Circa 1920: Building becomes the Barbershop.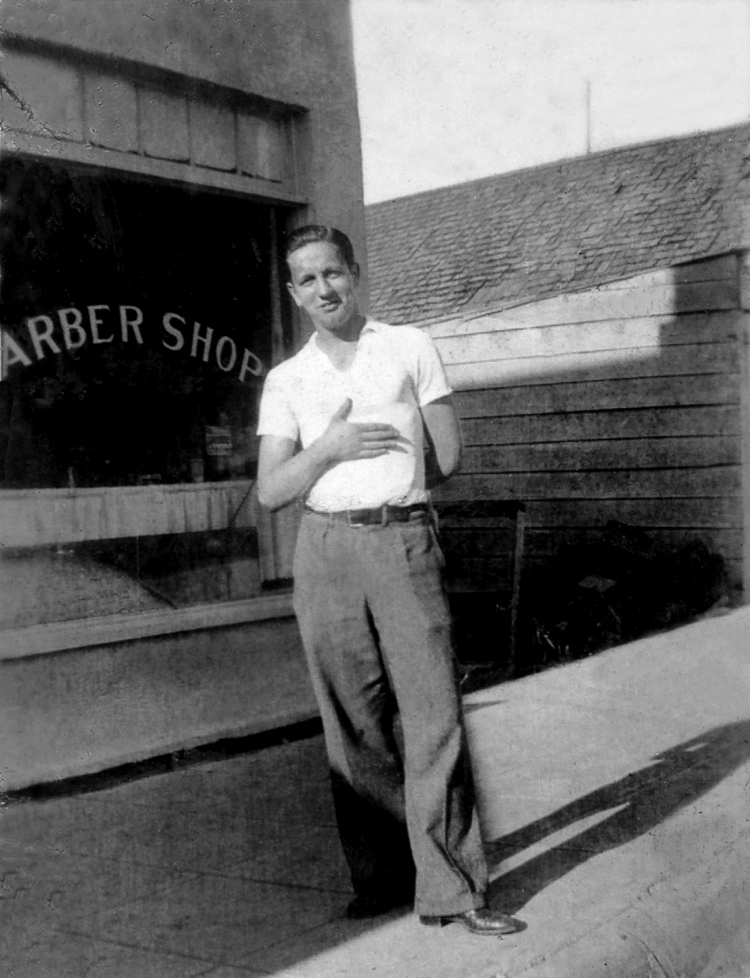 Circa 1935. Claude Noble in front of the barbershop (Courtesy South Whidbey Historical Society).
The former Palace of Sweets then became the location of a new barbershop with a rounded facade. A number of barbers practiced there over the years, including Martin Mortenson, Leslie Hensley, and Earl Stevenson.
Circa 1940. Earl Stevenson and Winifred Hunziker standing in doorway of barbershop (Courtesy South Whidbey Historical Society)
1957. Home of the Whidbey Record (Courtesy Darrell Corbin).
Several businesses in addition to the barbershop resided in the building over the years. The Whidbey Record had it's office there as did the Puget Power and Light Company for a time. It was also the home of Effie Simonson's "Launderette" and dry cleaning.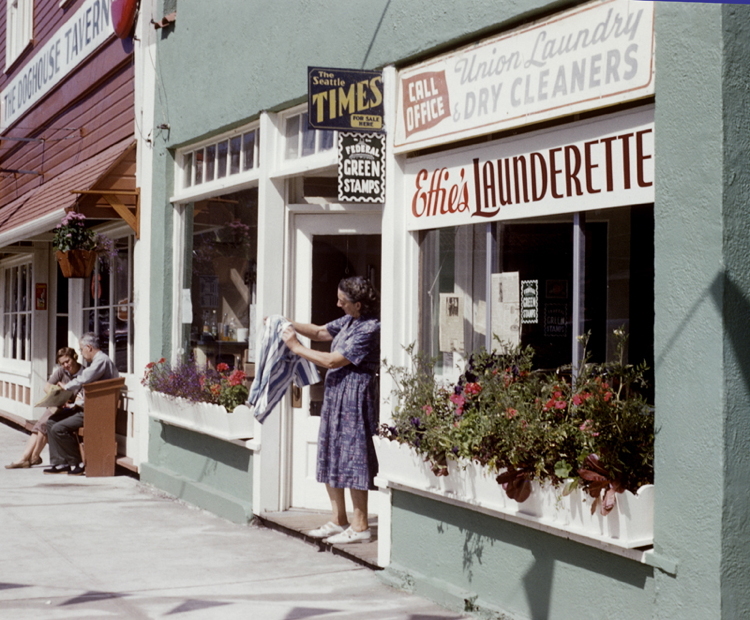 1960. Effie Simonson in doorway of her Launderette (Courtesy Darrell Corbin)
Known as "Langley's unofficial Ambassador of Goodwill", Effie Simonson was a familiar figure in Langley. Born at Brown's Point (Sandy Point) in 1894, her family moved to a house on Sixth Street in Langley. Her father left town when she was three years old, stranding the family. One of seven children, Effie was sent to live with the Beachum family near Freeland. At age 18, she married Henry Simonson and they had two children. When her husband died of cancer, she had to work a variety of jobs around Washington state to make ends meet. She returned to Langley and opened a dry cleaning and gift shop. Effie was a local historian and worked as a columnist for the Whidbey Record for several years. In her later years, Effie could be seen making the rounds, feeding the pigeons, and picking up packages to deliver to the bus station for people. Effie died in 1979 at age 85.
1965: Lickity Split Ice Cream and Candy Shop.
Circa 1965. Lickity Split ice cream and candy (Courtesy South Whidbey Historical Society)
Seattle real estate developer, Robert Smith purchased the building in the mid 1960's and transformed it into an ice cream and candy store called "Lickity Split" and "Sweet Piece" that was run by his daughters--ice cream on one side, candy counter on the other. He also changed the look of the facade. Gary Piper made a carved wood sign of a two-scoop ice ream cone for the window of the ice cream part and a lollipop sign for the other.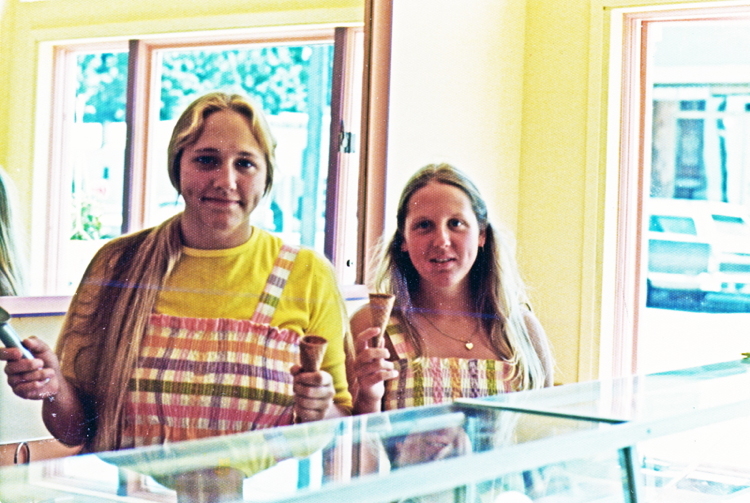 Circa 1968. Mary (left) and Betsy Smith in the Lickity Split (Courtesy Monica Smith).
A series of other ice cream and coffee shops followed the Lickity Split. Bill Burnett bought the building and Brian McKenna ran "B's-Treats" ice cream there from 1980 to 1982 after his "B-Street" restaurant across the street closed. Then Denise Piper had a shop called the "Coffee Mill," followed in 1983 by David and Janet La Castro's "JB Ice Cream and Espresso."
1984. Tree removal and foundation repair (Courtesy Brian McKenna)
Built initially on wet ground, the foundation needed repair. Trees behind the building were removed by Jim Fox and a new foundation was installed under JB's in 1984.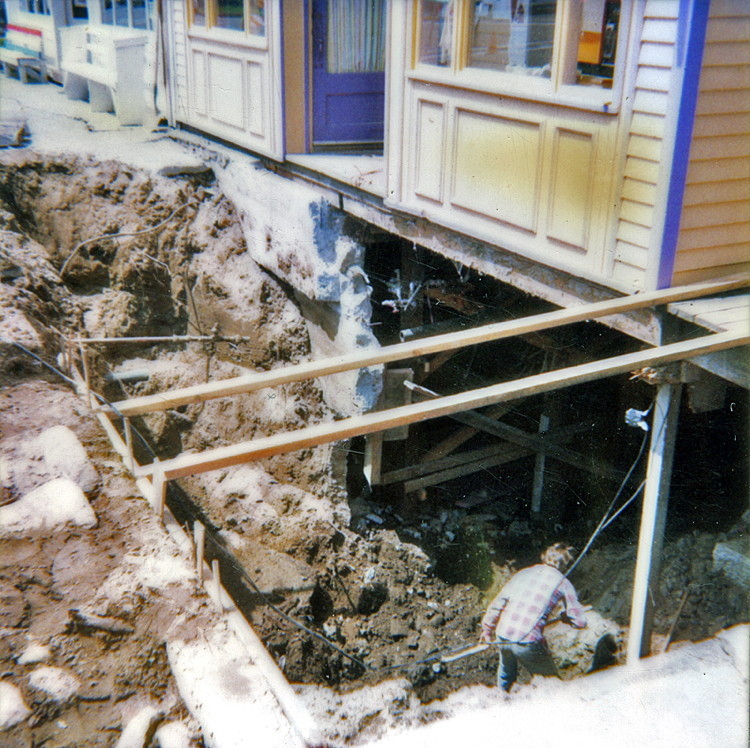 1984. Foundation repair (Courtesy Brian McKenna)
Major rennovation: The sidewalk in front of the building was removed and a new foundation installed. The sidewalk was then replaced.
Circa 1985. JB's Ice Creamery and Espresso (Courtesy South Whidbey Historical Society)
"JB's was a little corner store--like the Dog House. It was the first coffee/latte shop in Langley." (Michele LaRue).
The building was sold to the owner of Whidbey Coffee who opened "Whidbey's Coffee and Ice Cream" shop. It had a colorful mural painted on the east side facing the little walkway to the rear of the building.
2004. Whidbey's Coffee and Ice Cream (Courtesy Robert Waterman)
2004. Mural on east side of Whidbey's Coffee and Ice Cream (Courtesy Robert Waterman)
The "LightHouse Art and Glass Company" followed Whidbey Coffee and Ice Cream.
2004. The Lighthouse sign (Courtesy Robert Waterman)
It had a very short tenure, before being replaced by Marie Lincoln's "Chocolate Flower Farm" in 2005.
2006. Chocolate Flower Farm (Courtesy Robert Waterman)
2017. New Facade (Courtesy Robert Waterman)
The building was purchased in 2016 by Thomas Haven and Sara Ames who remodeled the interior and added a new facade.