211 First Street
Artisan Crafted Home (Press / Restaurants / Art Works / Retail)
Circa 1926 - 1930: Whidby Record
The Whidby Record, with no "e" in Whidbey, got its start in 1923 when Frank Niles published the first edition from a two-story building on the corner of Second Street and Anthes Avenue. He moved the press into a new building on First Street "after a few years."
Ernest ("Ernie") Noble recalled that the press was located in this building when he came to town in 1925. Don Goodfellow, who later owned the building, also said the press was there in 1926. However, there is no building located on this lot in the Sanborn insurance map published in 1929.
Niles published the newspaper until selling it in 1934 to George Astel, owner of the Oak Harbor News and the Whidbey Times in Coupeville.
Circa 1940: Farrell's Fountain - Lunch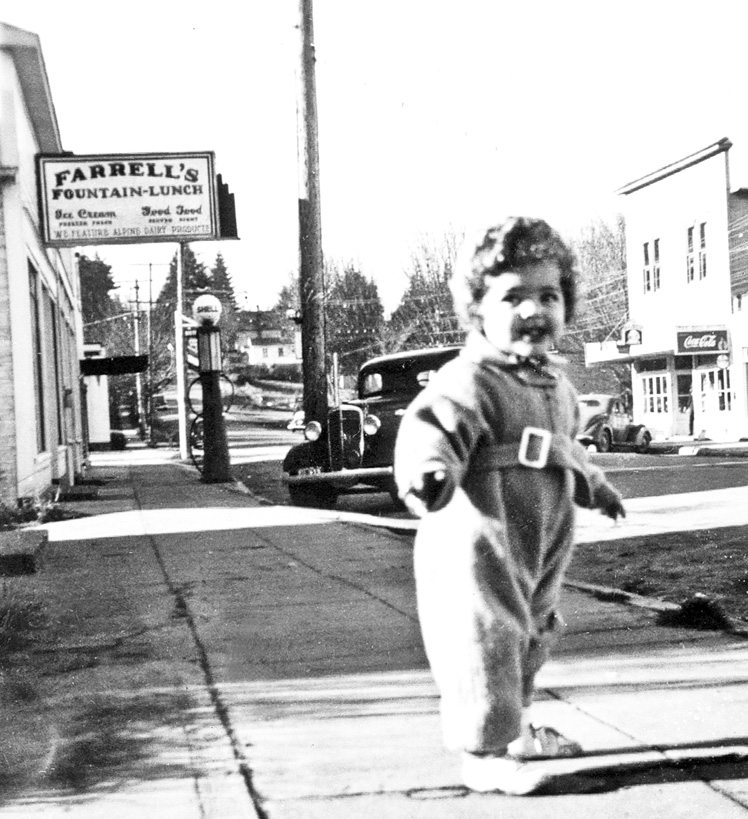 1942. First Street looking west. Joanne Primavera stands on the sidewalk near Farrell's Fountain - Lunch (Courtesy Anna Primavera).
The building next housed a series of restaurants after the press moved out. The first of these was "Farrell's Fountain-Lunch."
Fran Johnson worked there part time as High School student 1941/42. "Charlie Farrell owned it, and Clara Campbell ran it. Clara lived in cottage on the beach below Dog House. On the left as you entered were 3 or four booths along the east wall. Beyond those was the Wurlitzer Nickelodeon.
On the right was the fountain with six stools and a bar with dishes. Straight back was an old fashioned cash register and the ice cream machine with bins. We made our own ice cream; five cents a cone. Behind the ice cream was a door to a room with a booth where Clara would go to smoke. Then a door to the outside and the wood pile. Behind the nickelodeon was the kitchen with an unworkable wood stove. The china cabinet had glass in which you could see boys stealing punch cards.
I worked after school and weekends for one dollar a day. Movies were shown Friday and Saturday nights. I would leave the movie early to get to the restaurant before the crowd came and would close. I was thirteen and the only one working. Clara Campbell ran the restaurant. She would call if she needed me. She fired me once for asking for a Sunday off, but apologized the next day. I fried hamburgers and helped make ice cream. There was no deep fryer, so no French fries. We had canned crab sandwiches for 15 cents."
Clara died in 1945, and the building was sold to Arvid and Leone Hanson who also owned the Sunrise Beach Resort at the marina.
Circa 1950: Stuart's Fountain Cafe
The building was sold to Robert ("Bob") and Clare Stuart, who operated it as "Stuart's Langley Fountain Cafe."
Circa 1951. Menu from Stuart's Langley Fountain Café (courtesy South Whidbey Historical Society).
According to Don McKay, Stuart's wife Clare "covered for him while he hung out in the kitchen getting wiped out on wine and then go out to admire his neon sign. He raised a fine athlete, however, in that his son Bob was an all-star pitcher for Langley and won Co-State honors with a Seattle player in about 1949. The old man was a supportive father and would emerge from the Cafe, donned in a white apron, and receive pitches from his son when he needed someone to catch for him. It was a sight to see."
After Bob Stuart, Sr. died, Clare married Noah Bucklew in 1955. The building was then sold to Ann and Bill Gordon who ran the restaurant, but no longer served ice cream.
1961. Langley Fountain Cafe (Courtesy Darrell Corbin).
1972: Art Works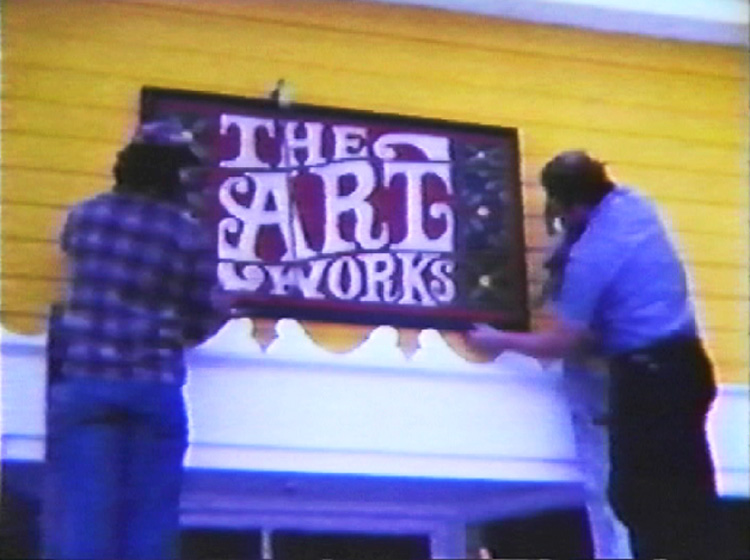 1972. Frame from Soup box Derby video (Courtesy South Whidbey Historical Society).
In October, 1972 Mrs. Louis Aquilar and her daughter Bernadette Perron bought the building, and "a few months later a group called the Art Works bought it."
The "Art Works" was started by a group including Gary Piper, Brant and Brain Wilson, and others. They made and sold metal sculptures. They remodeled the building to meet their needs, and installed a porthole that they found in the east side of the building facing Frick Lane. Most of their sales were not local, but they did have some work sold locally in the "Purple Plum Gallery."
1984: Building sold to Don and Jean Goodfellow
Circa1985. "Purple Plum Gallery" and "Poor Jean's Yarns" (Courtesy Langley City Hall).
The Purple Plum Gallery, a dress shop, Goodfellow Secretarial Service, and Gwen Knight's "Glass Knight" shared the space initially. Jean Goodfellow then opened "Poor Jean's Yarns."
1988: Herron Clothing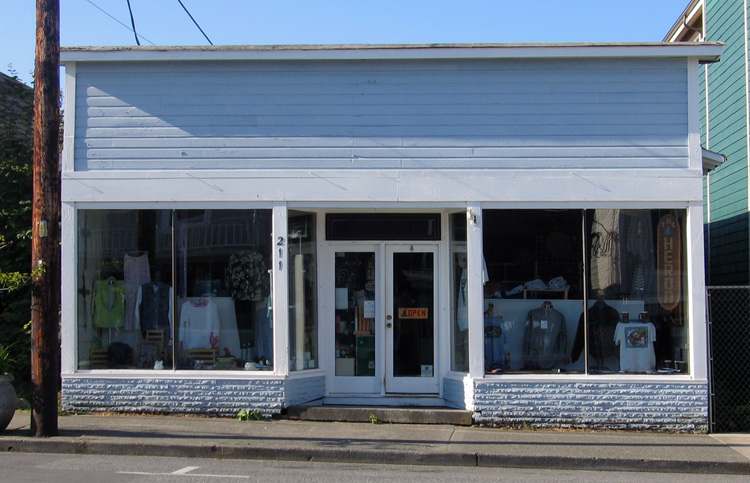 2015. The Herron (courtesy Robert Waterman).
The building was sold to the Kleins who converted the building into a clothing store known as the "Herron."
2016: Artisan Crafted Home
2017. Artisan Crafted Home (Courtesy Robert Waterman).
Jack and Suzanne Healy purchased the building and extensively remodeled the interior. They opened a fine home furnishings store, "Artisan Crafted Home," in 2016.