210 First Street: Knitty Purls
208 First Street: Wish
Lenz Garage (Langley Garage / Retail Shops)
1919: Lenz Garage built.
Circa 1923. Carl ("Charlie") Lenz standing in front of his garage. (Courtesy South Whidbey Historical Society)
The Lenz Garage was the first garage built on 1st Street to service the automobiles that were becoming more numerous. Red Crown gas was selling for 21 cents a gallon.
"Charlie Lenz was a big happy German who had a gifted knack with motors and autos. He had a Garage in town and most of the business. When he was paid off in cash, he threw all the silver dollars into the greasy 12 quart bucket he had used to catch the engine oil. When the garage burned to the ground (in the 1930's), he was surprised and elated to find the bucket in the rubble, intact and containing eleven hundred greasy silver dollars.." (William McGinnis)
The garage burned circa 1932. Following the fire, the garage was rebuilt and enlarged to include the vacant lot between the original garage and the Livery Stable.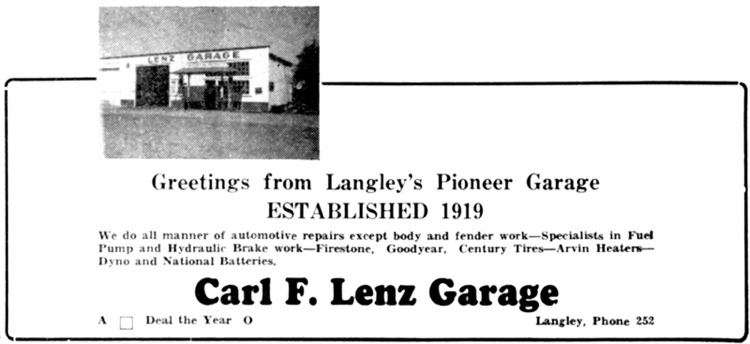 1939. Carl's ad in the November 1939 Whidby [sic] Record (Courtesy South Whidbey Historical Society)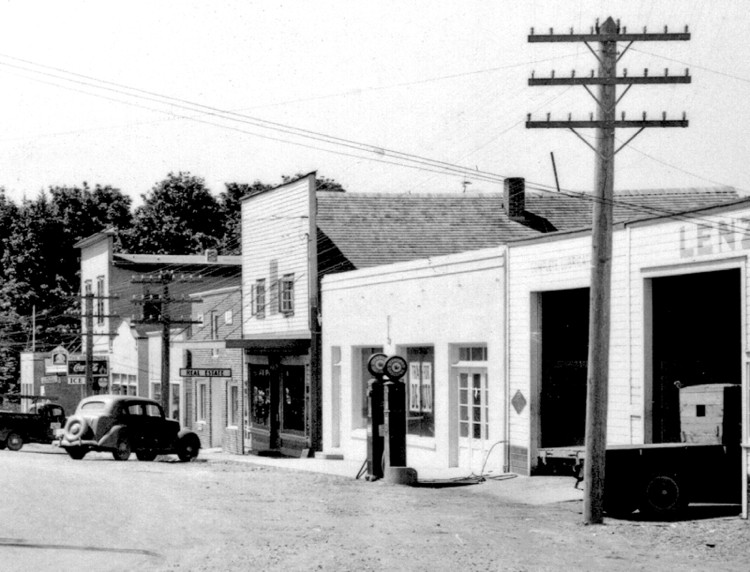 1940's. First Street looking west (Courtesy South Whidbey Historical Society).
The new garage consisted of two adjacent buildings with two gas pumps in front. The name was changed to Langley Garage in the early 1940's.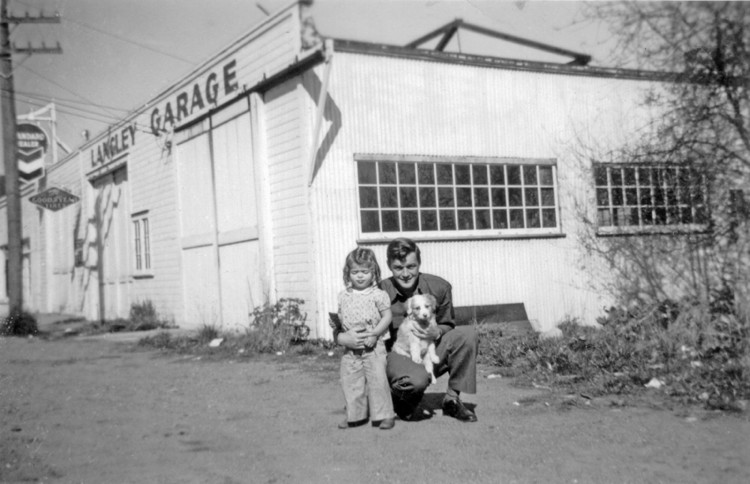 1943. Joanne Primavera, Jack Scriven & dog at SE corner of Langley Garage (Courtesy Anna Primavera)
Circa 1951: Martin Mortenson and Edward E. Christoe buy the Garage.
Circa 1951. Ad for Langley Garage (Courtesy South Whidbey Historical Society)
Circa 1952. First Street looking west. (Courtesy South Whidbey Historical Society)
The garage was purchased by Martin Mortenson and his son-in-law, Ed E. Christoe. The name was changed to "Langley Garage", and they added a DeSoto/Plymouth dealership in the western half of the garage.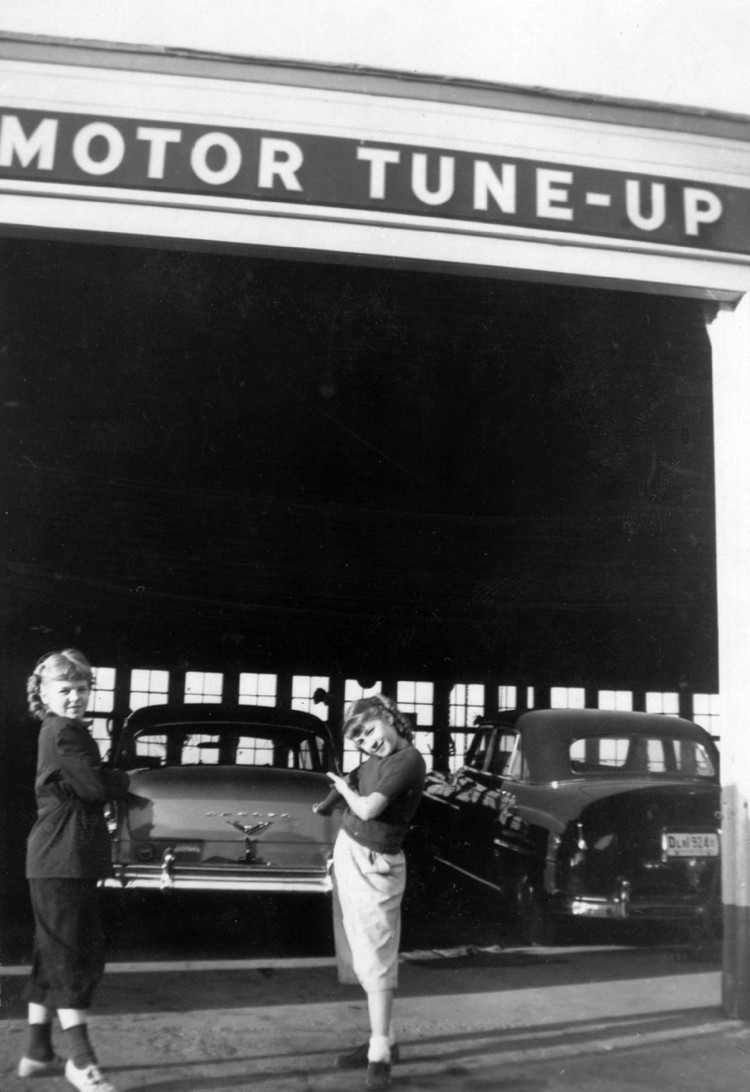 Circa 1953. Sue Christoe (left) and friend showing off cars in the Tune Up Bay of her grandfather's garage (Courtesy Sue (Christoe) McQueen)
"You'd go in there and stand next to that huge monster (lift) that stuck through the floor. You could look through the floor and see water down below." (Sandy Izett).
1960 Gas pumps removed. (Courtesy Darrell Corbin)
The garage had several proprietors after Mortenson and Christoe, and the business was failing. Martin Mortenson died in 1962.
1965: Robert Smith buys the Langley Garage
Seattle realtor Robert Smith purchased the building in 1965 and transformed the garage into retail spaces.
"Robert L. ('Bob') Smith came to Langley in the early '60s when business was withering in the small town...'Things were really falling apart.' Smith said a group of business people recruited him and his money to revitalize First Street. In 1965 he purchased 180 feet of waterfront property stretching from the Dog House to the far edge of the park...Two-thirds of the land he kept. The other 60 feet were deeded to the business group, known as Langley on Whidbey Island, Inc. Smith then launched what he terms 'The great restoration of the town of Langley.' Buildings were refurbished and new tenants installed, primarily from his own family." (Whidbey Record, 1996)
Circa 1970. Desoto/Plymouth dealership (left) and garage (right) (Drawing by Paul Tietje, courtesy South Whidbey Historical Society)
The entire garage was divided into two portions, each with retail spaces. The Desoto/Plymouth dealership area became 210 and 208 First Street. The East end of the garage eventually became numbers 206, 204, and 202 First Street.
208 and 210: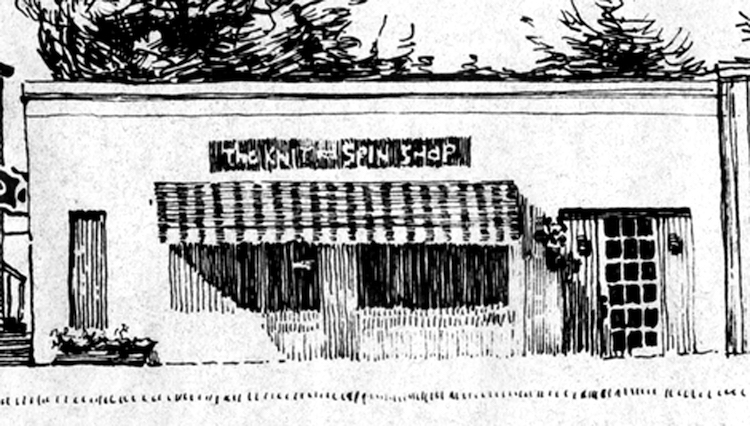 Circa 1970. The Knit and Spin Shop. (Drawing by Paul Tietie, courtesy South Whidbey Historical Society)
The former Desoto/Plymouth dealership area became the "Knit and Spin Shop" run by Robert Smith's sister-in-law Mary. "Mary Smith was a Seattleite who summered for years on Whidbey Island. In a large converted automobile showroom and garage. Mrs. Smith instructs classes in knitting and spinning." (Seattle Times Pictorial Magazine, November 14, 1965).
1972: Building sold
The building was bought by Mrs. Louis Aquilar in 1972 and given to her two daughters Angie Schiermeyer and Bernadette Perron. The Knit and Spin moved out and the old Desoto/Plymouth building was divided into two commercial spaces.
1974. Gold sign for the pipe shop (Courtesy Darrell Corbin)
In 1973, Travers and Virginia LaRue moved their "Tobacco and Pipe Shoppe" from Freeland into the left side of the space vacated by the Knit and Spin. Travers made hundreds of handmade pipes each year priced from $19.50 to $500 in the workroom behind the shop. In addition to selling tobacco, Virginia also became interested in selling antiques.
1974. Virginia Tobacco and Pipe Shoppe (behind tractor) Langley Emporium (right) with "bird" sign (Courtesy Darrell Corbin)
A business called the "Langley Emporium" operated in the right side for about one year. Then, in 1974, the LaRue's daughter Michele and her husband Les Dunner moved their Crow's Nest business from next door into the space vacated by the Langley Emporium. Langley resident Gary Piper made a gold-leaf sign for the Pipe Shoppe, and silver-leaf signs in the windows of the Crow's Nest.
"Mom and dad had a tiny little kitchen in their pipe shop along with the backroom workshop where dad had compressors and wheels and lathes - you can't imagine the equipment he had back there. Mom would cook up some food in the little kitchen and we'd be sitting in our shop at one of our dining room tables and people would walk by after 5 o'clock and we'd be in here eating diner at the table." (Michele LaRue)
Travers LaRue died in 1983, but Virginia carried on, opening several antiques shops in spaces along First Street. When Virginia Pipe & Tobacco Shoppe closed, Michele LaRue's sister, Denise, opened "The Cottage" featuring small antiques and textiles in the space next to her sister.
"Imagine walking into a shop in Paris, with its elegant Euro flair and individualized gift-wrapping, no matter the shape or price of your purchase. That's what Denise has created in her shop that features elegant and feminine clothing, adornments and wedding wear. And like the other LaRues, customer service is key." (Sue Frause).
There were big French doors between the Plymouth/Desoto dealership portion of the building and the other half of the garage. Michele and Les used boards from an old building to cover over the doors. They also boarded over the windows between the bays of the garage, but left a small door between the two spaces. It was not uncommon to see Michele and Denise checking out each other's wares or chatting when they occupied the adjacent parts of the building.
1985: "Sister" replaces the "Crow's Nest"
1985. "Sister" opening April, 1985 (Courtesy Langley City Hall).
In 1985, Michele's "Crow's Nest" was transformed into a clothing store named "Sister" jointly owned and operated by Michele and Denise LaRue; "as an homage to both sisterhood and fun women's fashion."
1986. Painted white for making of Dixie Lanes movie (Courtesy Ron Childers).
The buildings along First Street were painted white in 1986 for the making of a movie called Dixie Lanes, and the pipe shop sign and wooden Indian were moved outside Virginia's Antiques shop up the street.
"The wooden Indian was carved by non-natives up in Anacortes. Mom and dad met some guys and commissioned them to make it. It was of green cedar and it split when it was drying. We'd hear people laughing outside 'Oh, he must have had a bad headache!' We would roll him in and out at night. He was on a stand and we could roll him in here. Mom finally sold him." (Michele LaRue).
Michele eventually bought the business from her sister Denise and later sold the store to Lisa Gilbert in 1993. Michele moved to Second Street where she operated a clothing store named "Big Sister."
The next owner named it "What a Girl Wants," and when that store moved out, Michele LaRue moved her Big Sister business back into her old space next to her sister's "The Cottage" on First Street.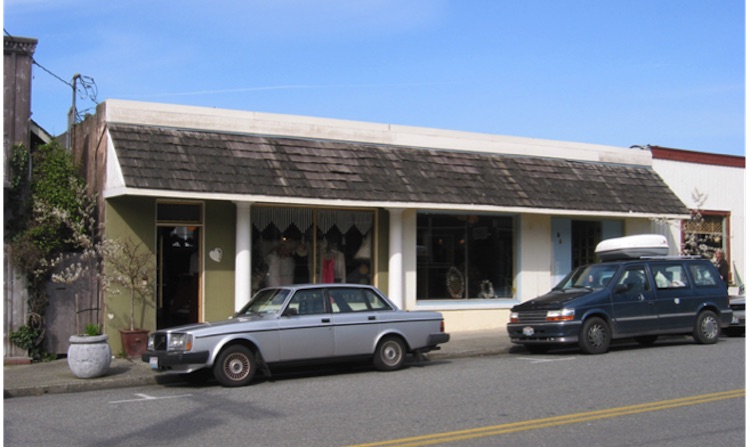 2004. The Cottage (left) and Big Sister (right)(Courtesy R. Waterman)
2004. The Cottage (Courtesy Robert Waterman)
The Cottage closed in 2014 and was replaced by "Knitty Purls," a yarn and knitting store. Michele LaRue closed "Big Sister" in 2016, and the space was occupied by "Wish," a gift shop.
2016. Knitty Purls and Wish (Courtesy Robert Waterman)