138 Second Street
Anthes Ferments (Propane / Beauty Parlor / Art / Real Estate / Chocolate / Kalakala)
1952: Petrolane Propane and Whidbey Record office
1969. Petrolane office and South Whidbey Record office (arrow) (Courtesy Neil Colburn).
A small structure served as the Petrolane Propane office. Martin Schmidt ran the propane business, and large propane tanks filled the lot behind the building in the 1960's. Ace Comstock was editor of the Whidbey Record and had his office in there too.
1972: Sandy's Styling Salon
Circa 1980: Sandy's Hair Styling Salon (Courtesy Langley City Hall).
Sandy And Don Izett bought the building and enlarged it for "Sandy's Hair Styling Salon."
Circa 1980: Sandy's Hair Styling Salon (Courtesy Langley City Hall).
According to Sandy, "We bought the old Petrolane Propane building and enlarged it. I started by myself working six days a week. Eventually we had five stations. My friend Pat was not licensed so she would just come in and serve the ladies coffee and put the rollers out, and get them magazines. I was there 20 years. I liked the job. I loved the people. I liked the fact that you could go down there, do some stuff, and come home with nothing serious you could forget about. But the nerves in my legs would just jump. Nothing serious, but I had to have some surgery, and I started studying real estate while I was recovering."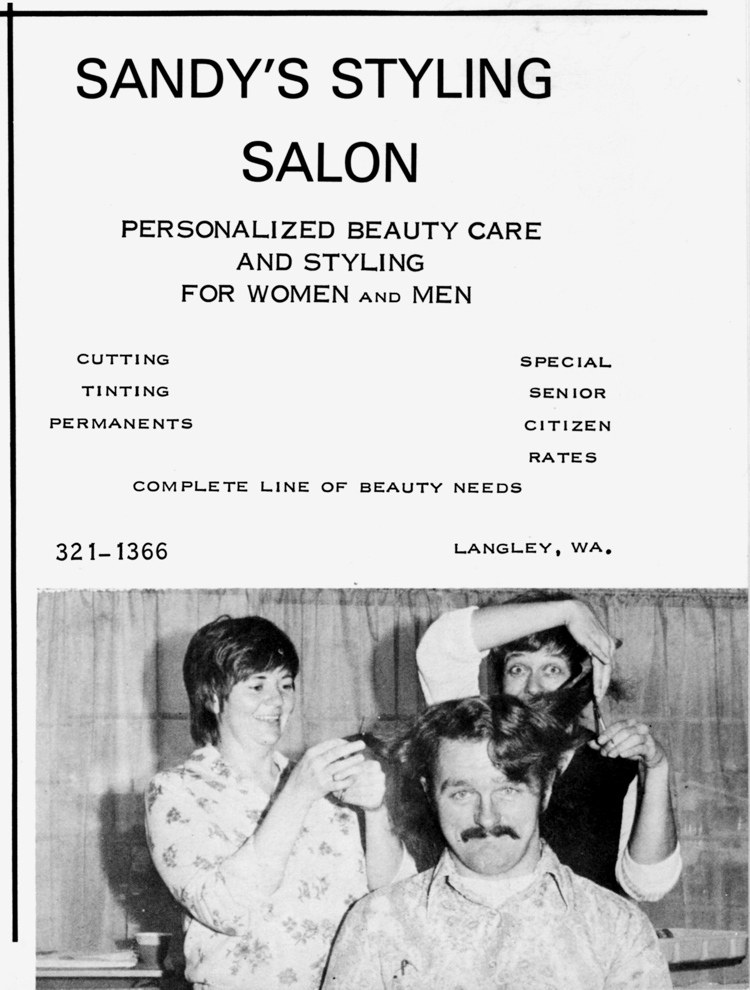 1974. Ad in High School Year Book of Sandy Izett (right) and friend cutting the hair of the High School teacher Carl Westling (Courtesy South Whidbey Historical Society).
After Sandy's Hair Styling Salon closed, the building housed a Real Estate office and the McFarland Gallery.
Circa 2002: McFarland Gallery (Courtesy Robert Waterman).
2004: Island of Art

2004. Isle of Art (Courtesy Robert Waterman).
In 2004, Joe and Nancy Menth opened the "Isle of Art Gallery" as a "venue where emerging artists with a passionate and inspirational vision could exhibit their works and debut in a locale where art was paramount and highly respected. The name was "inspired by Joe's joke after seeing the often used Whidbey Island license plate frames stating "Isle of View" - if you don't get it, say it out loud)."
A year later they moved into the building across Frick Lane.
2006: 1 Angle Place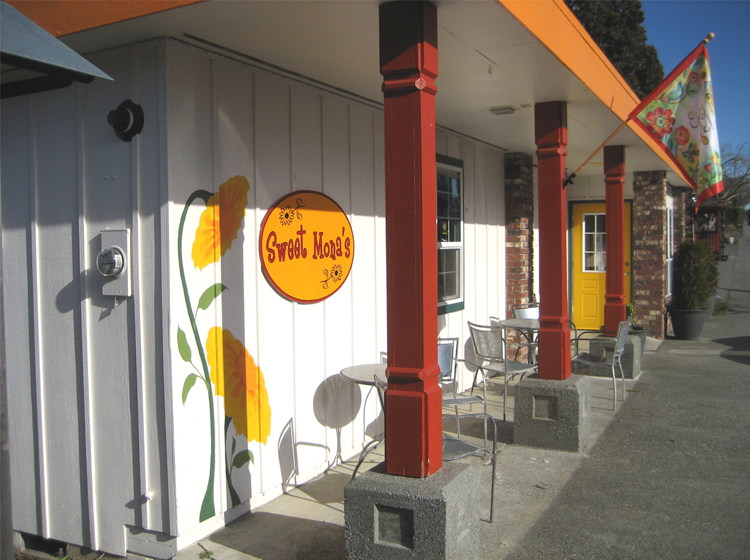 2009. Sweet Mona's (Courtesy Robert Waterman).
Ramona ("Mona") Newbauer opened 1 Angel Place, Chocolate Bar, in February, 2006. She later changed the name to "Sweet Mona's". Mona moved the chocolate shop to a larger space across the street In 2014.
2014: Kalakala Mercantile Company
2015. Kalakala Mercantile Co. (Courtesy Robert Waterman).
Co-owners Drew Christie and Amanda Moore opened a restaurant called "Kalakala" on December 20, 2014 and closed it April 8, 2017.
2017: Anthes Ferments
2017. Anthes Ferments (Courtesy Robert Waterman).
Chef Trap Landry and his wife, Sonya Tsuchigane, opened the Anthes Ferments restaurant in 2017. The diverse menu included dishes of "Japanese, Korean, German and American cuisines." Each has at least one fermented element.