120 Second Street
Beauty Lounge & Spa, Lawyer (Chiropractor / Lawyer / Businesses)
1979: Building built
1985. Aerial view (Courtesy Delores Cobb).
The two-story building was erected in 1979 for the chiropractor Robert Sleight. His office was on the first floor and residence above. James Holman purchased the building from Con O'Sullivan in 1982.
After Bob Sleight moved his practice to the Langley Village circa 1985, a number of lawyers occupied the building including Lawrence and Jacqueline Shafer, and Lynn Hicks.
A shoe store and Bob and Theresa Wheeler's "Wheeler Galleries," featuring the art of Thomas Kincaid, occupied the ground floor briefly in the 1990's.
2001: Neis & Associates
2004. Neis & Associates, Inc. and SLR (Courtesy Robert Waterman).
Stephanie Neis opened her financial services office on the ground floor below the office of Attorney Lynn Hicks in 2001.
A reservist, Lynn Hicks was called up after 9/11/2001 and Strategic Learning Resources (SLR) moved from a building on Melsen Alley into the second story In 2002. SLR moved to the ground floor when Stephanie Neis moved out in 2006, and remained there until 2010.
Attorneys Carolyn Cliff and Alice Blanchard moved from Anthes Avenue into the second floor space in 2010.
2010. Law Offices sign hanging above and bottom floor empty (for rent signs) (Courtesy Robert Waterman).
The "Langley Salon and Spa" moved in to the ground floor when SLR left.
2015: Beauty Lounge and Spa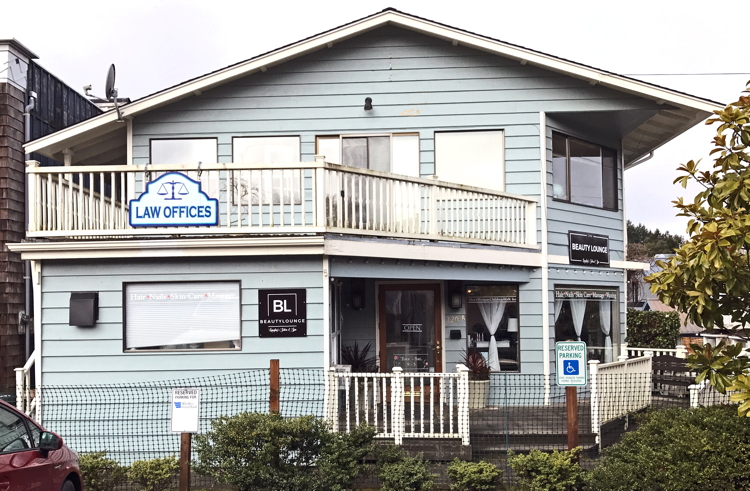 2018. Beauty Lounge and Alice Blanchard Law (Courtesy Robert Waterman).
Carolyn Cliff retired in 2017, leaving Alice Blanchard the sole occupant of the second story above the Beauty Lounge and Spa.
2018. Blanchard Law office upstairs (Courtesy Robert Waterman).