118 Second Street
Law Office (Residence / Dentist / Architect)
Circa 1945: Residence constructed.
1970. Small house (red Arrow) (Courtesy Delores Cobb).
The little building (red arrow) on Second Street was moved up the alley from behind the two-story building next to the Star Store by Doc Brewer's wife Elinor in 1944. The Brewers lived in the building facing First Street (blue arrow), and the property extended form First Street to Second Street. Mrs. Brewer has a garden on the portion of the property facing Second Street. The building next to the Star Store was later demolished, but was used as a hardware and lumber store during the 1940's.
According to Elinor's son, Don McKay, his mother bought a 30' X 30' building for $600 and had Clarence ("Smokey") Stover move it 500 feet up McLeod alley to her garden area in his flat bed truck. She hired local folks to do the remodeling work, including plumbing and wiring, and "before long she had a house, two bedrooms, one bath and a nicely decorated living room. She rented it out for a hear, then decided to sell it outright along with a lot she platted out of our back acre. I believe the selling price was $16,000, a good deal for all parties."
In 1972, Frank Ploof rented the building for his dental office. In 1983, he moved his office and residence to Anthes Avenue, and attorney Jesse Valentine occupied the building.
1983: Jessie Valentine Law Office
1985. Jessie Valentine law office (Courtesy Langley City Hall).
1993: Small building replaced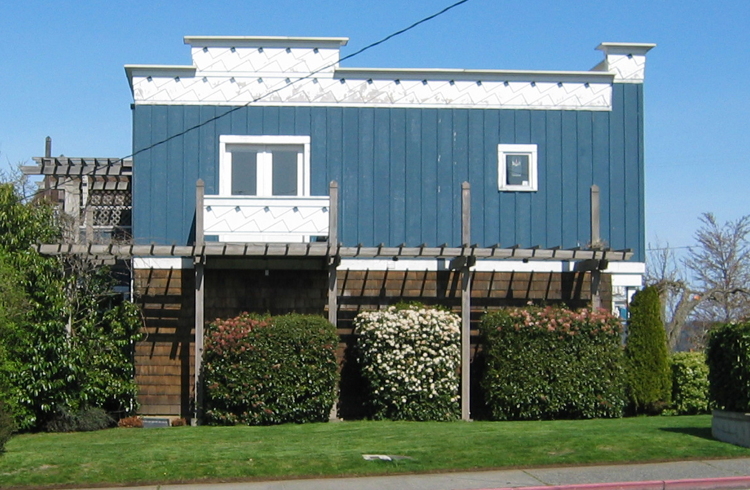 2004. South side of the building. Jessie Valentine office (Courtesy Robert Waterman).
The small building was replaced in 1993 by a larger structure designed by architect Ross Chapin. It housed the offices of Attorney Jessie Valentine (118A) and John Shevenell's Passage Architects (118B) on the second floor.
2018. East side of the building. Jessie Valentine's office (left) (Courtesy Robert Waterman).