114 Second Street
Animal Hospital (Medical Clinic)
1969: Langley Clinic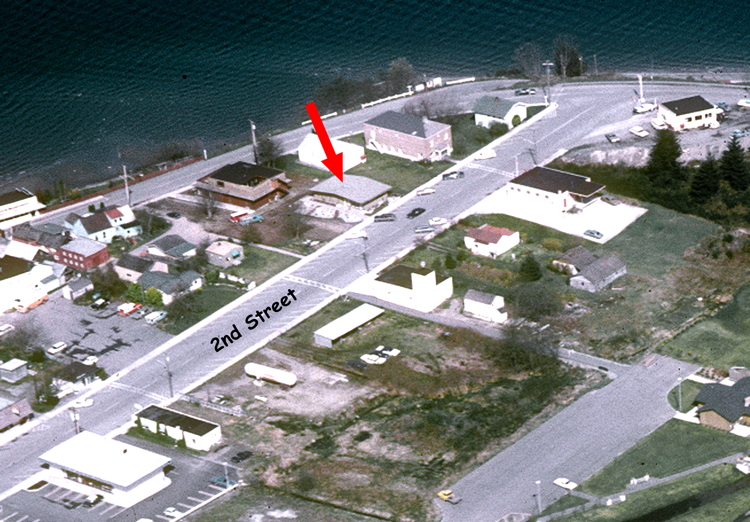 1971. Medical Clinic on Second Street (Courtesy Ben Breedlove).
Donald Purdy, MD built the Langley Clinic in 1968. Dr. Purdy came to Langley in 1952 as a locum tenens. When the doctor he was replacing decided not to return, Dr. Purdy stayed and at times was the only doctor practicing on South Whidbey from 1954 to 1976. His first office was in a building on Anthes Avenue before constructing the clinic on First Street.
In 1976, Dr. Purdy accepted a position in Family Medicine in Georgia and the clinic was sold to Dr. Steve Shapiro. Dr. John Douglas Alderdice joined the practice in 1977. Dr. Shapiro and his wife Debra opened a fitness center in a former lumber yard on Second Street, then opened the Island Athletic Club in Freeland. Washington in 1996.
2007. Langley Clinic and South Whidbey Physical Therapy (Courtesy Robert Waterman).
The Clinic continued to operate with a number of practitioners, but finally closed in 2008. The Artist Cooperative began remodeling the building with the intention of it becoming an art gallery, but the building was sold to Dr. Jean Dieden for a veterinary hospital.
2012: Animal Hospital By The Sea
2012. Animal Hospital by the Sea (Courtesy Robert Waterman).
The clinic was remodeled. A new entry was designed by Eric Richmond of Flat Rock Productions with the work done by Gemkow Construction.