113 First Street
Saltwater Fish House and Oyster Bar (Bakery/ Barber & Beauty Shop / Cafe Langley)
1927: Tiemeyer Bakery
Circa 1940. Fred Tiemeyer and friend in the bakery (Courtesy Anna Primavera)
Fred Tiemeyer, his wife Florence, and their children David and Camilla, came to Langley from Alaska in 1925. Fred bought a lot on First Street and Fred started a bakery there in 1927.
According to Anna Primavera who worked there as a high school student, "The baking was done in the back and products sold at the front of the store. Mr. Tiemeyer was very popular with the children because he sold big Butterhorns for a nickel."
Betty Hensley, who also worked in the bakery as a student, helped clean up. She would enter via the back door and Mr. Tiemeyer would purposefully break a couple cookies to give to her for helping.
1945: Arnolds beauty Parlor and Barber Shop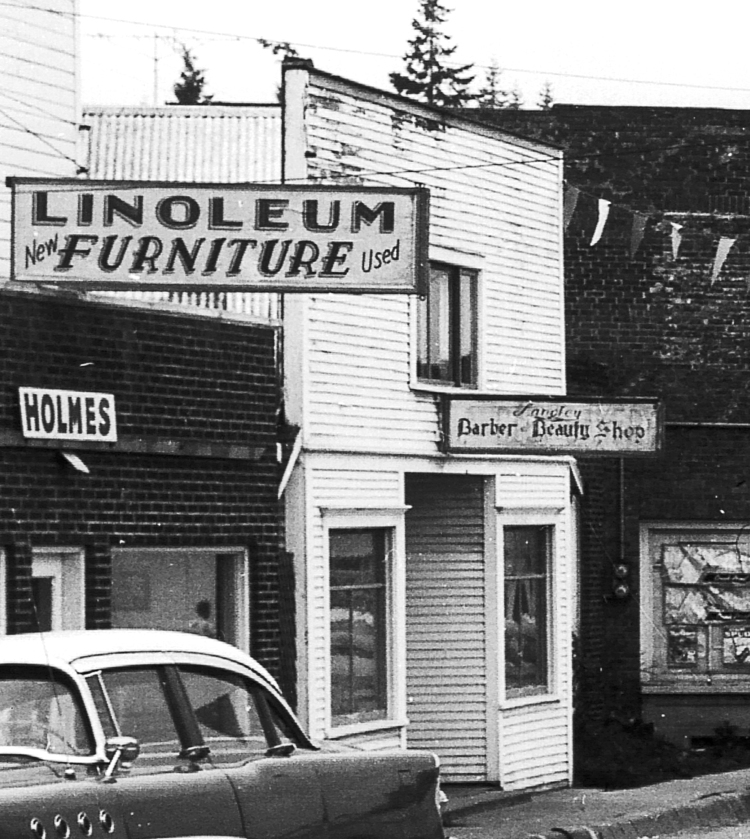 Circa 1955. Langley Barber and Beauty shop (Courtesy John Ball).
The Tiemeters sold the building to Adolph Mathson in 1944, who sold it to Xelis ("Bill") and Lyla Arnold in 1945. According to Paul Samuelson, Mrs. Arnold ran a beauty parlor on the left side and he had a barbershop on the right. They lived above.
Lloyd Furman recalled going to "Bill" in High School, "You didn't make an appointment. You went down, sat in the chair and took your turn. He had a little farm on Cultus Bay Road and if he wasn't in the barbershop he put out a little sign 'Hay today, Hair tomorrow'" Xelis Arnold died in 1976.
According to Fran Johnson, the Eberhardts operated a beauty shop in the building after the Arnolds and before Rick Capps moved his "Mug and Brush Tonsorial Emporium" into the building.
Circa 1960. Beauty shop (Courtesy South Whidbey Historical Society).
When Rick Capps moved his barbershop to Anthes Avenue, Paul Samuelson moved his barbershop into the right side of the building. There was a fudge shop on the left side. Paul was there 3-4 months, then moved to the "Watson Towers" building on Anthes Avenue.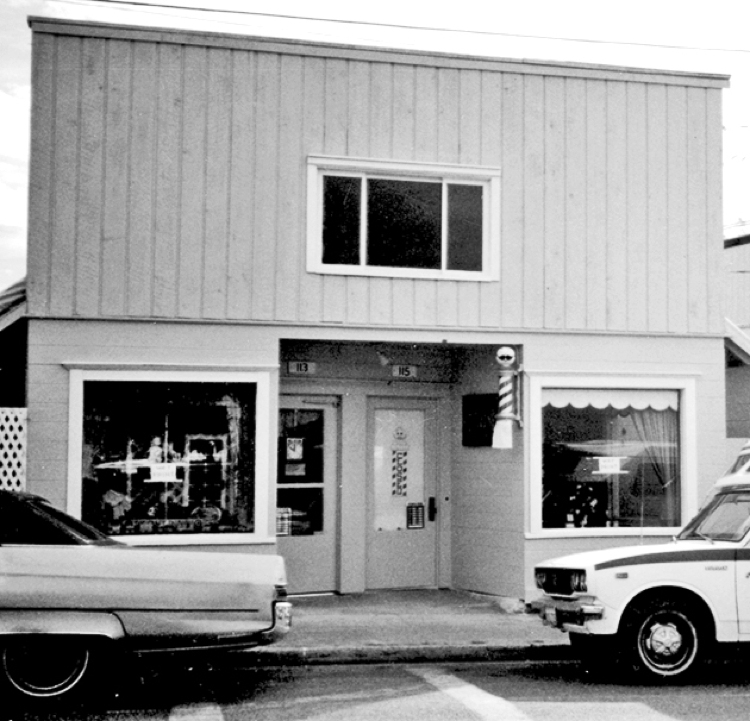 Circa 1967. Barbershop and fudge store (Courtesy South Whidbey Historical Society).
1989: Cafe Langley
2010. Cafe Langley (Courtesy Robert Waterman).
In 1983, Lyla Arnold sold the property to brothers Arshavir and Shant Caribyan and their wives who transformed the building into the popular Cafe Langley. After 27 years of serving the Village by the Sea, Cafe Langley closed its doors in 2016.
2017: Saltwater Fish House and Oyster Bar
2017. Saltwater Fish House and Oyster Bar (Courtesy Robert Waterman).
When the Cafe Langley closed, the owners of the Prima Bistro next door moved in and remodeled the space into the Saltwater Fish House and Oyster Bar that opened in 2017.